alcohol

al·co·hol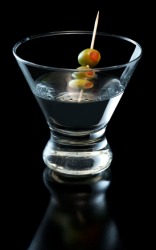 A vodka martini contains alcohol.
noun
The definition of alcohol is a liquor that contains ethanol and has the potential to intoxicate drinkers, and it can be burned as fuel.

Whiskey, vodka, rum and gin are each an example of alcohol.
---
alcohol
a colorless, volatile, pungent liquid, CHOH: it can be burned as fuel (10-15% of gasohol), is used in industry and medicine, and is the intoxicating element of whiskey, wine, beer, and other fermented or distilled liquors: classed as a depressant drug

also called

ethyl alcohol

any intoxicating liquor with this liquid in it
the drinking of such liquors: alcohol was his downfall
a class of organic compounds, including ethyl or methyl (wood) alcohol, that contain one or more hydroxyl groups (OH) and form esters in reactions with acids
Origin of alcohol
ML, term used by Paracelsus for fine powder, distilled spirit from Arabic
alku?l
, antimony powder, collyrium from
al
, the +
ku?l
, kohl
---
alcohol
noun
Any of a series of hydroxyl compounds, the simplest of which are derived from saturated hydrocarbons, have the general formula CnH2n+1OH, and include ethanol and methanol.
A colorless volatile flammable liquid, C2H5OH, synthesized or obtained by fermentation of sugars and starches and widely used, either pure or denatured, as a solvent and in drugs, cleaning solutions, explosives, and intoxicating beverages. Also called ethanol . Also called ethyl alcohol . Also called grain alcohol .
Intoxicating beverages containing ethanol considered as a group: the national consumption of alcohol.
Origin of alcohol
Medieval Latin
fine metallic powder, especially of antimony
from
Arabic
al-kuhl
al-
the
kuhl
powder of antimony
k&xlowdot;l
Word History:
The
al-
in
alcohol
may alert some readers to the fact that this is a word of Arabic descent, as is the case with
algebra
and
alkali, al-
being the Arabic definite article corresponding to
the
in English. The second part of the word,
-cohol,
comes from Arabic
kuhl,
the word for a fine powder (most often made from antimony) used as a cosmetic to darken the eyelids. In fact,
kuhl
has given us the word
kohl
for such a preparation. The Arabic phrase
al-kuh,
"the kohl," was borrowed into Medieval Latin as one word,
alcohol,
"kohl." From Medieval Latin it was borrowed into English in the 16th century. In English,
alcohol
came to refer to any fine powder produced in a number of ways, as by heating a substance to a gaseous state and then cooling it.
Alcohol
could also be used to refer to essences obtained by distillation. One of these distilled essences produced by alchemists and early chemists, known as
alcohol of wine,
was the constituent of fermented liquors that causes intoxication, and the term
alcohol
came to refer to this essence (what modern chemists would call
ethanol
) in particular. Eventually, the liquors that contained this essence began to be called
alcohol,
too. In the terminology of modern chemistry,
alcohol
has also come to refer to the class of compounds to which ethanol belongs.
---
alcohol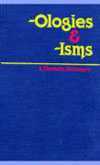 See also beer; fermentation; wine.
absinthism
an addiction to absinthe, a liqueur flavored with the narcotic wormwood,
Artemisia absinthium.
—
absinthial, absinthian,
adj.
abstinence
a voluntary and habitual self-deprivation, especially from alcoholic beverages. —
abstinent,
adj.
alcoholism
1.
an addiction to alcohol, especially involving compulsive, excessive consumption.
2.
the pathological effects of such overindulgence. —
alcoholic,
n.
alcoholomania
an obsession with alcohol.
alcoholphilia
an excessive liking for alcoholic beverages. —
alcoholphile,
n.
antialcoholism
the state or doctrine of opposition to the excessive consumption of liquor. —
antialcoholic,
n., adj.
bacchanalianism
1.
a devotion to drunken revelry and carousal in honor of Bacchus.
2.
a dedication to such behavior on other occasions. —
bacchanalian,
n., adj.
bibacity
the state of being given to excessive drinking of alcohol. —
bibacious,
adj.
bibulosity
excessive drinking of alcoholic beverages. —
bibulous,
adj.
compotation
drinking together, usually to excess.
compotator
a drinking companion.
crapulence
excessive indulgence in food or drink.
dipsomania
an insatiable craving for alcohol; chronic drunkenness. —
dipsomaniac,
n
. —
dipsomaniacal,
adj.
dipsophobia
an abnormal fear of drinking. —
dipsophobe,

n

.
drunkometer
a device for measuring the amount of alcohol in the bloodstream, usually from the breath. Also called
breathalyzer.
ebriety
intoxication or inebriation, whether regarded as the condition, the process, or the habit.
ebriosity
drunkenness or intoxication from alcohol, especially as a habitual state.
fermentology
a science that deals with ferments and fermentation, especially those concerned with the production of alcoholic beverages. —
fermentologist,
n.
inebriety
drunkenness.
insobriety
the opposite of sobriety; inebriation.
libation
Jocular.
an alcoholic beverage.
mixology
skill in the mixing of alcoholic drinks. —
mixologist,
n.
nephalism
an adherence to the tenets of teetotalism. —
nephalist,
n., adj.
—
nephalistic,
adj.
orgy
1.
In ancient Greece or Rome.
a wild celebration in honor of certain gods.
2.
riotous merrymaking, especially with excessive indulgence in sex, alcohol, and drugs. —
orgiast,
n.
—
orgiastic,
adj.
polydipsia
extreme thirst; an abnormal and continuous craving for drink.
potation
1.
excessive drinking of alcohol.
2.
an alcoholic drink. See also
food and nutrition
.
potomania
1.
an excessive tendency to drink alcoholic beverages.
2.
Also called
tromomania
. delirium tremens.
prohibitionism
1.
the principles governing the forbidding by law of the manufacture or sale of alcoholic beverages.
2.
the interdiction itself. —
prohibitionist,
n
. —
Prohibition,
n
.
Rechabite
a member of the Independent Order of Rechabites, a secret society devoted to total abstention from intoxicating liquors, founded in England in 1835.
teetotalism
the principle or conscious practice of complete abstinence from alcoholic beverages. Also called
total abstinence
. —
teetotaler,
n
.
tromomania
delirium tremens. Also called
potomania
.
Volsteadism
the theory or practice of prohibitionism; after the Volstead Act, which implemented U.S. prohibition, introduced by Andrew J. Volstead.
Washingtonian
a member of the Washingtonian Society, a temperance society founded in the United States in 1843.
---
alcohol

Origin
From Middle English or Old French alcohol (modern French alcool), from Arabic الكحل (al-kuḥl, "kohl") (by broadening). The etymology is conventionally given as الكحل (al-kuḥl), dating to 1672, and has been promulgated by such authorities as Webster's Third New International Dictionary, which traces it through Middle Latin and Old Spanish. It entered English (other European languages) by an alchemical term, by etymological broadening thence broadening to any distillates, thence narrowing to ethanol specifically.
Bartholomew Traheron in his 1543 translation of John of Vigo introduces the word as a term used by "barbarous" (Moorish) authors for "fine powder": the barbarous auctours use alcohol, or (as I fynde it sometymes wryten) alcofoll, for moost fine poudre.
William Johnson in his 1657 Lexicon Chymicum glosses the word as antimonium sive stibium. By extension, the word came to refer to any fluid obtained by distillation, including "alcohol of wine", the distilled essence of wine.
Libavius in Alchymia (1594) has vini alcohol vel vinum alcalisatum.
Johnson (1657) glosses alcohol vini as quando omnis superfluitas vini a vino separatur, ita ut accensum ardeat donec totum consumatur, nihilque fæcum aut phlegmatis in fundo remaneat.
The word's meaning became restricted to "spirit of wine" (ethanol) in the 18th century, and was again extended to the family of substances so called in modern chemistry from 1850.
According to Rachel Hajar, the classical Arabic term for alcohol is الغول (al-ḡūl) or غول (ḡūl), as used in Qur'an verse 37:47 (Arabic), there written غَوْلٌ and transmitted by mispronunciation.
---