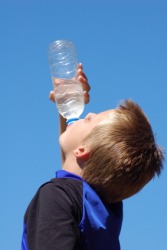 A thirsty boy guzzles water.
---
guzzle
---
guzzle
verb
guz·zled
,
guz·zling
,
guz·zles
verb
, transitive
To drink greedily or habitually: guzzle beer.
To consume to excess: a car that guzzles gas.
verb
, intransitive
To drink, especially alcoholic beverages, greedily or habitually.
Origin of guzzle
Origin unknown
.
Related Forms:
---
guzzle
Verb
(third-person singular simple present guzzles, present participle guzzling, simple past and past participle guzzled)
To drink (or, sometimes, eat) quickly, voraciously, or to excess; to gulp down; to swallow greedily, continually, or with gust.

They spent most of their college days guzzling beer.

(intransitive, dated) To consume alcoholic beverages, especially frequently or habitually.
(by extension) To consume anything quickly, greedily, or to excess, as if with insatiable thirst.

This car just guzzles petrol.
Noun
(plural guzzles)
(dated, uncountable) Drink; intoxicating liquor.

Where squander'd away the tiresome minutes of your evening leisure over seal'd Winchesters of threepenny guzzle! — Tom Brown

(dated) An insatiable thing or person.
1623, W. Whately, Bride Bush,

This is all one thing as if hee should goe about to jussle her into some filthy stinking guzzle or ditch.
Origin
Attested since 1576. Possibly imitative of the sound of drinking greedily, or from Old French gouziller, gosillier ("to pass through the throat"), from gosier ("throat"), and akin to Italian gozzo ("throat; a bird's crop").
---