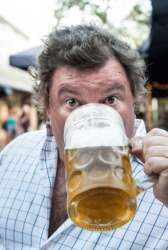 A man quaffs a beer.
verb
To quaff is to drink something thirstily or quickly.

When you guzzle down a beer really fast, this is an example of quaff.
---
quaff
to drink deeply in a hearty or thirsty way
Origin of quaff
Early ModE, probably (by misreading of
-ss-
as
-ff-
) from Low German
quassen,
to overindulge (in food and drink)
the act of quaffing
a drink that is quaffed
---
quaff
verb
quaffed, quaff·ing, quaffs
verb
transitive
To drink (a beverage) heartily: quaffed the ale with gusto.
verb
intransitive
To drink a liquid heartily: quaffed from the spring.
noun
A hearty draft of liquid.
Origin of quaff
Origin unknown
Related Forms:
---
quaff

Verb
(third-person singular simple present quaffs, present participle quaffing, simple past and past participle quaffed)
Antonyms
(wine terminology): food pairing
Noun
(plural quaffs)
The act of quaffing, a deep draught.
A piled-up hairdo (alternative spelling of coif)
Origin
Attested since the mid 16th century, of uncertain origin. Suggestions include connection with Irish Gaelic cauch ("cup") (whence Scots quaich, queff). The noun is derived from the verb, since the later 16th century.
---