ale

ale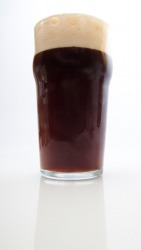 A glass of brown ale.
noun
The definition of ale is an alcoholic drink that is made with malt, hops and yeast.

The dark brown alcoholic drink served at English country festivals is an example of ale.
---
ale
a fermented drink made from malt, hops, and yeast, like beer, but by rapid fermentation at a relatively high temperature
Origin of ale
Middle English from Old English
ealu, ealo
from Indo-European base an unverified form
alu(t)-
, bitter, beer, alum
---
ale
noun
A usually full-bodied beer that has been fermented at a relatively warm temperature.
A serving of this beer.
Origin of ale
Middle English
from
Old English
ealu, alu
; see
alu-
in Indo-European roots.
---
ale

Noun
(countable and uncountable, plural ales)
An intoxicating liquor made from an infusion of malt by fermentation and the addition of a bitter, usually hops.

Note: The word ale, in England and the United States, usually designates a heavier kind of fermented liquor, and the word beer a lighter kind. The word beer is also in common use as the generic name for all non-distilled malt liquors.

A festival in English country places, so called from the liquor drunk.
Origin
Old English ealu, ealo, from Proto-Germanic *aluþ (compare Dutch aal, Swedish öl), from Proto-Indo-European *h₂elu- 'bitter'. Compare Latin alum ("comfrey"), alūta ("tawed leather"), Polish (Eastern) jełki, iłki ("rancid"), Ancient Greek ἀλύδοιμος (aludoimos, "bitter"), and Albanian all ("of reddish colour")
---
ale - Computer Definition
(Application Launching & Embedding) A feature in Citrix products that enables Windows and Unix applications to be embedded into and/or launched from an HTML page without any code change. It was originally deployed in Citrix's MetaFrame and WinFrame products. See Citrix XenApp.
---