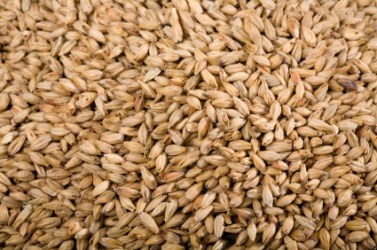 Detail of malt made from barley.
---
malt
noun
barley or other grain softened by soaking in water until it sprouts and then kiln-dried: used for brewing and distilling certain alcoholic beverages or liquors
a beverage or liquor made from malt, esp. beer, ale, or the like
☆

Informal

malted milk
Origin of malt
Middle English
malte
; from Old English
mealt,
akin to German
malz
; from Indo-European an unverified form
mel-d,
soft ; from base an unverified form
mel-,
to crush, grind from source melt, mill
transitive verb
to change (barley, etc.) into malt or something maltlike
to treat or prepare (milk, etc.) with malt or malt extract
intransitive verb
to be changed into malt or something maltlike
to change barley, etc. into malt
---
malt
noun
Grain, usually barley, that has been allowed to sprout, used chiefly in brewing and distilling.
An alcoholic beverage, such as beer or ale, brewed from malt.
See malted milk.
verb
malt·ed
,
malt·ing
,
malts
verb
, transitive
To process (grain) into malt.
To treat or mix with malt or a malt extract.
verb
, intransitive
To become malt.
Origin of malt
Middle English, from Old English
mealt
; see
mel-
1
in Indo-European roots.
Related Forms:
---
malt
Noun
(plural malts)
Malt liquor, especially malt whisky.
(US) Short for "malted milk shake", a milkshake with malted milk powder added for flavor
Verb
(third-person singular simple present malts, present participle malting, simple past and past participle malted)
To convert a cereal grain into malt by causing it to sprout (by soaking in water) and then halting germination (by drying with hot air) in order to develop enzymes that can break down starches and proteins in the grain.
Origin
From Old English mealt, malt, from Proto-Germanic *maltą. Cognate with Dutch mout, German Malz, Swedish malt. The Proto-Germanic noun is likely a borrowing from Proto-Slavic *malta; compare Ukrainian молот (mólot), Czech mláto.
---