beer

beer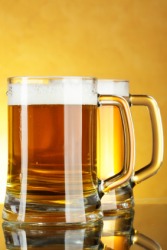 Two mugs of beer.
noun
The definition of beer is an alcoholic beverage generally made from malted grain, flavored with hops or a carbonated soft drink made with flavor from roots or other parts of a plant.

Bud Light, Corona and Coors are each an example of beer.
Root and ginger are each an example of a beer type.
---
beer
an alcoholic beverage made from grain, esp. malted barley, fermented by yeast and flavored with hops; esp., such a beverage produced by slow fermentation at a relatively low temperature
any of several soft drinks made from extracts of roots and plants: ginger beer
Origin of beer
Middle English and Old English
beor,
akin to German
bier
; only in WGmc; a monastic (6th circa ) borrowing from Vulgar Latin
biber,
beverage ( from Classical Latin
bibere,
imbibe): origin, originally used for the drink made with hops, as distinct from the older drink, ale, then made without
---
beer
noun
a. A fermented alcoholic beverage brewed from malt, usually flavored with hops.

b. A fermented beverage brewed by traditional methods that is then dealcoholized so that the finished product contains no more than 0.5 percent alcohol.

c. A carbonated beverage produced by a method in which the fermentation process is either circumvented or altered, resulting in a finished product having an alcohol content of no more than 0.01 percent.

A beverage made from extracts of roots and plants: birch beer.
A serving of one of these beverages.
Origin of beer
Middle English
ber
from
Old English
bēor
from
West Germanic
probably from
Latin
bibere
to drink
; see
pō(i)-
in Indo-European roots.
---
beer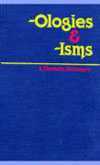 See also alcohol; fermentation; wine.
beerocracy
England
. the aristocracy that gained its wealth and social position from the ownership of breweries.
cooperage
the barrel or container used to store and ship draft beer.
labeorphily
the collecting of beer bottle labels. —
labeorphile
, n.
meadophily
the study of beer bottle labels. —
meadophile,
n.
tegetology
the collecting of cardboard beer coasters. —
tegetologist,
n.
---
beer

---