adjective
The definition of down is unhappy, sad or depressed.

An example of down is when you are crying because you broke up with your boyfriend.
adverb
Down is defined as going lower.

An example of down is when you go on an elevator from the 10th floor to the first floor.
noun
Down means the fluffy feathers of a bird.

An example of down is the feathers used in a comforter on a bed.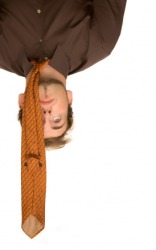 A man hanging upside down.
---
Down definition by Webster's New World
adverb
from a higher to a lower place; toward the ground
in, on, or to a lower position or level; specif., to a sitting or reclining position

in or to a place thought of as lower or below; often, specif., southward: to go down to Florida
out of one's hand: put it down

below the horizon
from an earlier to a later period or person: down through the years
into a low or dejected emotional condition
into a low or prostrate physical condition: to come down with a cold
in or into an inferior position or condition: held down by harsh laws
to a lower amount, value, or bulk: to come down in price

to a less excited or active condition; into a tranquil or quiet state: to settle down
to a lower volume of sound: turn down the radio

in a serious or earnest manner: to get down to work
completely; to the full extent: loaded down
in cash or when bought: five dollars down and the remainder in installments
in writing; on record: take down his name
Origin: Middle English doun ; from adune, adown ; from Old English adune, ofdune, from the hill ; from a-, of-, off, from plush dune, dative of dun, hill: see down
adjective
descending; directed toward a lower position
in a lower place; on the ground
gone, brought, pulled, etc. down

depressed; dejected

Slang

depressing or downbeat: a down atmosphere

dejected; discouraged
prostrate; ill
completed; finished: four down, six to go
inoperative: the computer is down
characterized by low or falling prices

Slang

nice, good, excellent, etc.
sophisticated, stylish, etc.; cool; hip

Sports

☆ no longer in play: said of a football
trailing an opponent by a specified number of points, strokes, etc.
☆

Baseball

put out
down or downward, along, through, into, or upon: down the street, down the chimney, down the river, down the stairs
transitive verb
to put, bring, get, throw, or knock down
to defeat, as in a game

to gulp or eat rapidly
intransitive verb
Rare
to go, come, or get down
noun
a downward movement or depressed condition; defeat, misfortune, etc.
☆

Football

one of four consecutive plays in which a team, in order to keep possession of the ball, must either score or advance the ball at least ten yards
the declaring of the ball as down, or no longer in play

Slang

a barbiturate or other depressant drug; downer
noun
soft, fluffy feathers, as the outer covering on young birds or an inner layer of feathers on adult birds
soft, fine hair or hairy growth
Origin: Middle English doun ; from Old Norse dūnn, akin to Gothic dauns, fume ; from Indo-European base an unverified form dheu-, to fly like dust, be turbid: see dull
noun
an expanse of open, high, grassy land: usually used in pl.
Origin: Middle English doun ; from Old English dun, a hill, akin to Old Dutch duna, Low German düne, sandhill: see dune
former county of E Northern Ireland: c. 952 sq mi (2,466 sq km)

district in E Northern Ireland, in the S part of the former county: 249 sq mi (645 sq km); pop. 58,000
Webster's New World College Dictionary Copyright © 2010 by Wiley Publishing, Inc., Cleveland, Ohio. Used by arrangement with John Wiley & Sons, Inc.
---
Down definition by American Heritage Dictionary
adverb
a. From a higher to a lower place or position: hiked down from the peak.

b. Toward, to, or on the ground, floor, or bottom: tripped and fell down.

In or into a sitting, kneeling, or reclining position: knelt down; lying down.
Toward or in the south; southward: flew down to Florida.

a. Away from a place considered central or a center of activity, such as a city or town: down on the farm; sent down to work at the firm's regional office.

b. Away from the present place.

To a specific location or source: tracking a rumor down.
Toward or at a low or lower point on a scale: from the biggest down to the smallest.

a. To or in a quiescent or subdued state: calmed down.

b. In or into an inactive or inoperative state: The generators went down at midnight.

To or at a lower intensity.
To or into a lower or inferior condition, as of subjection, defeat, or disgrace.
To an extreme degree; heavily: worn down by worry.
Seriously or vigorously: get down to the project at hand.
From earlier times or people: tradition handed down from one generation to the next.
To a reduced or concentrated form: pared the term paper down to five pages.
In writing; on paper: wrote the statement down.
In partial payment at the time of purchase: put ten dollars down on the necklace.
Into or toward a secure position: nailed down the boards; bolted the furniture down.
adjective
a. Moving or directed downward: a down elevator.

b. Low or lower: Stock prices were down today.

c. Reduced; diminished: The wind is down.

Afflicted; sick: She's down with a bad cold.
Malfunctioning or not operating, especially temporarily: The computer is down.
Low in spirits; depressed: feeling down today.

a. Sports & Games Trailing an opponent: a team down 20 points in the last quarter; down two pawns in the endgame.

b. Football Not in play: The ball is down on the 50-yard line.

c. Football Not permitted to advance further in the play because forward progress has stopped, especially by being tackled. Used of a ball carrier.

d. Baseball Retired; out: two down in the last of the ninth.

Completed; done: three down, two to go.
Learned or known perfectly: had the algebra problems down.
Slang Having knowledge of; aware: "He was not, I detected, 'down with the revolution'" (Clarence Page).
Slang Of high quality; excellent.
preposition
In a descending direction along, upon, into, or through: rolled down the hill; floating down the river; went down cellar.
Along the course of: walking down the street.
In or at: The cans are stored down cellar.
noun
A downward movement; descent.
Football Any of a series of four plays during which a team must advance at least ten yards to retain possession of the ball.
verb
downed
,
down·ing
,
downs
verb
, transitive
To bring, put, strike, or throw down: downed his opponent in the first round.
To swallow hastily; gulp: downed the glass of water.
Football To put (the ball) out of play by touching it to the ground.
verb
, intransitive
To go or come down; descend.
Origin: Middle English doun, from Old English -dūne (as in ofdūne, downwards), from dūne, dative of dūn, hill; see dheuə- in Indo-European roots.
noun
Fine, soft, fluffy feathers forming the first plumage of a young bird and underlying the contour feathers in certain adult birds.
Botany A covering of soft, short hairs, as on some leaves or fruit.
A soft, silky, or feathery substance, such as the first growth of a human beard.
Origin: Middle English doun, from Old Norse dūnn.
noun
An expanse of rolling, grassy, treeless upland used for grazing. Often used in the plural.
often Down Any of several breeds of sheep having short wool, originally bred in the Downs of southern England.
Origin: Middle English doune, from Old English dūn, hill; see dheuə- in Indo-European roots.
The American Heritage® Dictionary of the English Language, 4th edition Copyright © 2010 by Houghton Mifflin Harcourt Publishing Company. Published by Houghton Mifflin Harcourt Publishing Company. All rights reserved.
---
down - Computer Definition
Refers to a computer that ceases to operate due to hardware or software failure. A communications line is down when it is unable to transfer data.
Computer Desktop EncyclopediaTHIS DEFINITION IS FOR PERSONAL USE ONLYAll other reproduction is strictly prohibited without permission from the publisher.© 1981-2014 The Computer Language Company Inc. All rights reserved.
---
down - Phrases/Idioms
down and out
☆
Boxing

knocked out
lacking enough money, shelter, a job, etc.; destitute or impoverished
down on
Informal
hostile to; angry or annoyed with
down on
Informal
Hostile or negative toward; ill-disposed to:
was down on jogging after his injury.
Down
Variant of down
adverb
from a higher to a lower place; toward the ground
in, on, or to a lower position or level; specif., to a sitting or reclining position

in or to a place thought of as lower or below; often, specif., southward: to go down to Florida
out of one's hand: put it down

below the horizon
from an earlier to a later period or person: down through the years
into a low or dejected emotional condition
into a low or prostrate physical condition: to come down with a cold
in or into an inferior position or condition: held down by harsh laws
to a lower amount, value, or bulk: to come down in price

to a less excited or active condition; into a tranquil or quiet state: to settle down
to a lower volume of sound: turn down the radio

in a serious or earnest manner: to get down to work
completely; to the full extent: loaded down
in cash or when bought: five dollars down and the remainder in installments
in writing; on record: take down his name
Origin: Middle English doun ; from adune, adown ; from Old English adune, ofdune, from the hill ; from a-, of-, off, from plush dune, dative of dun, hill: see down
adjective
descending; directed toward a lower position
in a lower place; on the ground
gone, brought, pulled, etc. down

depressed; dejected

Slang

depressing or downbeat: a down atmosphere

dejected; discouraged
prostrate; ill
completed; finished: four down, six to go
inoperative: the computer is down
characterized by low or falling prices

Slang

nice, good, excellent, etc.
sophisticated, stylish, etc.; cool; hip

Sports

☆ no longer in play: said of a football
trailing an opponent by a specified number of points, strokes, etc.
☆

Baseball

put out
down or downward, along, through, into, or upon: down the street, down the chimney, down the river, down the stairs
transitive verb
to put, bring, get, throw, or knock down
to defeat, as in a game

to gulp or eat rapidly
intransitive verb
Rare
to go, come, or get down
noun
a downward movement or depressed condition; defeat, misfortune, etc.
☆

Football

one of four consecutive plays in which a team, in order to keep possession of the ball, must either score or advance the ball at least ten yards
the declaring of the ball as down, or no longer in play

Slang

a barbiturate or other depressant drug; downer