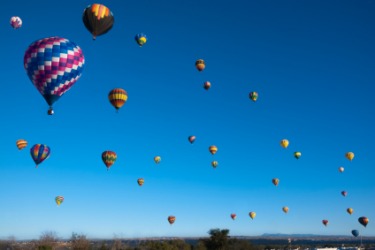 Hot air balloons up in the sky.
adverb
Up is defined as at or toward a higher point.

An example of up is the sky as compared to the land.
---
up
from a lower to a higher place; away from or out of the ground
in or on a higher position or level; off the ground, or from a position below to one at the surface of the earth or water
in a direction or place thought of as higher or above
above the horizon
to a later period: from childhood up
to a higher or better condition or station
to a higher amount, greater degree, etc.: with prices going up

in or into a standing or upright position
out of bed

in or into existence, action, view, evidence, consideration, etc.: to bring a matter up
into an excited or troubled state: to get worked up
aside; away; by: lay up grain for the winter
so as to be even with in space, time, degree, etc.: keep up with the times
to the point of completeness; entirely; thoroughly: eat up the pie
so as to stop: to rein up a horse
to or toward an earlier time: to move a meeting up
⌂

Informal

served without ice cubes; not on the rocks: said of a cocktail
⌂

Baseball

to one's turn at batting; at bat

Naut.

to windward: put up the helm
ahead of an opponent (by a specified number of points, strokes, etc.)
Origin of up
Middle English ; from Old English
up, uppe,
akin to German
auf,
Old Norse
upp
; from Indo-European an unverified form
upo,
up from below from source sub-, hypo-, over
to, toward, or at a higher place on or in
to, toward, or at a higher condition or station on or in: up the social ladder
at, along, or toward the higher or more distant part of: up the road
toward the source of, or against the current, flow, or movement of (a river, the wind, etc.)
in or toward the interior of (a country, territory, etc.)
in or toward a more northerly part of: to cruise up the coast
tending or directed toward a position that is higher or is regarded as being higher

in a higher position, condition, or station
mounted on a horse or horses

above the ground
above the horizon

advanced in amount, degree, etc.: rents are up

in a standing or upright position
out of bed

in an active, excited, or agitated state: her anger was up
even with in space, time, degree, etc.
living or located in the inner or elevated part of a country, territory, etc.
at an end; over: time is up
⌂ at stake in gambling: to have two dollars up on a horse
working properly and available for use: said esp. of a computer

Informal

going on; happening: what's up?

Informal

lively; cheerful; optimistic
⌂

Baseball

having one's turn at batting; at bat
ahead of an opponent (by a specified number of points, strokes, etc.)
a person or thing that is up, moves upward, etc.; specif.,

an upward slope
an upward movement or course
a period or state of prosperity, good luck, etc.

⌂

Slang

an amphetamine or other stimulant drug; upper
upped

,

up′ping
Informal
to get up; rise: sometimes used dialectally or informally in the uninflected form to emphasize another, following verb:
he up and left
to put up, lift up, or take up
to bring to a higher level or cause to rise: to up prices
to raise (a preceding bet or an ante)
it's all up with
Informal
there is no further hope for; the end is near for
on the up and up
⌂
Informal

open and aboveboard; honest

Chiefly Brit.

rising or improving steadily; prospering
up against
⌂
Informal
face to face with; confronted with
up against it
⌂
Informal
in difficulty; esp., in financial difficulty
up and around
out of bed and resuming one's normal activities, as after an illness
up for
presented or considered for (an elective office, an election, sale, auction, etc.)
before a court on (trial) or for (some charge)
⌂

Informal

willing to attend, take part in, etc. (an event, activity, etc.)
up on
Informal
well-informed concerning
ups and downs
good periods and bad periods
up to
occupied with; doing; scheming; devising: up to no good
equal to (a task, challenge, etc.); capable of (doing, undertaking, etc.)
as many as: up to four may play
as far as: up to now; tall grass came up to his waist
⌂ dependent upon; incumbent upon: entirely up to her
up to one's ears
Informal
very deeply: said of involvement in work, debt, trouble, etc.
up with!
give or restore power, favor, etc. to!
apiece; each: used to indicate a score just recently tied: the score is seven up
Origin of up
phonetic respelling of ap(iece), influenced, influence by up
University Press
Upper Peninsula
Origin of up-
Middle English ; from OE, identical with
up,
up
---
up
adverb
a. In or to a higher position: looking up.

b. In a direction opposite to the center of the earth or a comparable gravitational center: up from the lunar surface.

In or to an upright position: sat up in bed.

a. Above a surface: coming up for air.

b. So as to detach or unearth: pulling up weeds.

c. Above the horizon: as the sun came up.

Into view or existence: draw up a will.
Into consideration: take up a new topic.
In or toward a position conventionally regarded as higher, as on a scale, chart, or map: temperatures heading up; up in Canada.
To or at a higher price: stocks that are going up.
So as to advance, increase, or improve: Our spirits went up.
With or to a greater intensity, pitch, or volume: turn the sound up.
Into a state of excitement or turbulence: stir up; rouse up.
Completely; entirely: drank it up in a gulp; fastened up the coat.
Used as an intensifier of the action of a verb: typed up a list.
So as to approach; near: came up and kissed me.
To a stop: pulled up in front of the station.
Each; apiece: The score was tied at 11 up.
Apart; into pieces: tore it up.
Nautical To windward.
adjective
Being above a former position or level; higher: My grades are up. The pressure is up.

a. Out of bed: was up by seven.

b. Standing; erect.

c. Facing upward: two cards up, one down; the up side of a tossed coin.

Raised; lifted: a switch in the up position.
Moving or directed upward: an up elevator.

a. Marked by increased excitement or agitation; aroused: Our fighting spirit was up.

b. Informal Cheerful; optimistic; upbeat.

c. Slang Happily excited; euphoric: After receiving the award, the performer was really up.

Informal Taking place; going on: wondered what was up back home.
Being considered; under study: a contract that is up for renewal.
Running as a candidate.
On trial; charged: The defendant is up for manslaughter.
Having been finished; over: Your time is up.
Informal

a. Prepared; ready: had to be up for the game.

b. Well informed; abreast: not up on sports.

Functioning or capable of functioning normally; operational: Their computers are now up.
Sports Being ahead or at a numerical advantage over one's opponent: up two strokes in golf; up one man during the power play.
Baseball At bat.
As a bet; at stake.
Nautical Bound; headed: a freighter up for Panama.
preposition
From a lower to or toward a higher point on: up the hill.
Toward or at a point farther along: two miles up the road.
In a direction toward the source of: up the Mississippi.
Nautical Against: up the wind.
noun
An upward slope; a rise.
An upward movement or trend.
Slang A feeling of excitement or euphoria.
verb
upped
upped
,
up·ping
,
ups
verb
, transitive
To increase: upped their fees; upping our output.
To raise to a higher level, especially to promote to a higher position.
Nautical To raise: up anchor; up sail.
verb
, intransitive
To get up; rise.
Informal To act suddenly or unexpectedly: "She upped and perjured her immortal soul" (Margery Allingham).
Origin of up
Middle English
up
,
upward
and
uppe
,
on high
, both from Old English
ūp
; see
upo
in Indo-European roots.
abbreviation
Upper Peninsula
prefix
Up; upward: upheave.
Upper: upland.
Origin of up-
Middle English, from Old English
ūp-, upp-
; see
upo
in Indo-European roots.
---
up
Adverb
(not comparable)
Away from the centre of the Earth or other planet; in opposite direction to the downward pull of gravity.

I looked up and saw the airplane overhead.

(intensifier) Used as an aspect marker to indicate a completed action or state Thoroughly, completely.

I will mix up the puzzle pieces.
Tear up the contract.
He really messed up.
Please type up our monthly report.

To or from one's possession or consideration.

I picked up some milk on the way home.
The committee will take up your request.
She had to give up her driver's license after the accident.

North.

I will go up to New York to visit my family this weekend.

To a higher level of some quantity or notional quantity, such as price, volume, pitch, happiness, etc.

Gold has gone up with the uncertainty in the world markets.
Turn it up, I can barely hear it.
Listen to your voice go up at the end of a question.
Cheer up, the weekend's almost here.

(rail transport) Traditional term for the direction leading to the principal terminus, towards milepost zero.
(Cartesian graph) In a positive vertical direction.
(cricket) Relatively close to the batsman.

The bowler pitched the ball up.

(hospitality) Without additional ice.

Would you like that drink up or on ice?

To or in a position of equal advance or equality; not short of, back of, less advanced than, away from, etc.; usually followed by to or with.

I was up to my chin in water.
A stranger came up and asked me for directions.

To or in a state of completion; completely; wholly; quite.

Drink up. The pub is closing.
Can you sum up your research?
The comet burned up in the atmosphere.
I need to sew up the hole in this shirt.

Aside, so as not to be in use.

to lay up riches; put up your weapons
Preposition
Toward the top of.

The cat went up the tree.   They walk up the steps.

Toward the center, source, or main point of reference; toward the end at which something is attached.

The information made its way up the chain of command to the general.   They took a boat up the river from the coast.   I felt something crawling up my arm.

Further along (in any direction).

Go up the street until you see the sign.
(toward the top of): down
Adjective
(not comparable)
Awake.

I can't believe it's 3 a.m. and you're still up.

Finished, to an end

Time is up!

In a good mood.

I'm feeling up today.

Next in a sequence.

Smith is up to bat.

Happening; new.

What is up with that project at headquarters?

Facing upwards; facing toward the top.

Put the notebook face up on the table.
Take a break and put your feet up.

Larger, greater in quantity.

Sales are up from last quarter.

Standing.

Get up and give her your seat.

On a higher level.
(computing) Functional; working.

Is the server back up?

(of a railway line or train) Traveling towards a major terminus.

The London train is on the up line.

(bar tending) Chilled and strained into a stemmed glass.

A Cosmopolitan is typically served up.

(slang) Erect.
(of the Sun or Moon) Above the horizon, in the sky (i.e. during daytime or night-time)
(slang, graffiti) well-known; renowned
Noun
(usually uncountable, plural ups)
(uncountable) The direction opposed to the pull of gravity.

Up is a good way to go.

(countable) A positive thing.

I hate almost everything about my job. The only up is that it's so close to home.
Usage notes
Up is not commonly used as object of a preposition.
Verb
(third-person singular simple present ups, present participle upping, simple past and past participle upped)
(colloquial) To promote.

It wasn't long before they upped him to Vice President.

(intransitive) To act suddenly, usually with another verb.

He just upped and quit.
He upped and punched that guy.
---
up - Computer Definition
(1) A device that is currently working.
(2) (uP) (microProcessor) uP is an alternate spelling for µP. Micro comes from the Greek mikros, which means "small," and the symbol is µ. See microprocessor.
---