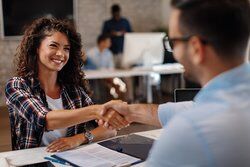 Interviews can be a roller coaster ride. There's a certain excitement about the prospect of a new job. There's also a certain level of nervousness leading up to the actual meeting. And then there's a waiting game until you hear from the company again.
In the midst of all that, a follow-up email expressing gratitude for the opportunity is of tremendous importance. It isn't merely a suggestion; it's something you should sit down to compose as soon as you return home. In the interview follow-up email examples below, you'll find samples that can be tailored to your particular situation and tips for getting the writing spot on.
If you're juggling many applications and interview opportunities, it might be helpful to open up a spreadsheet and maintain a timeline. Record the date you applied, when you first heard back, the date of your job interview, when you sent a follow-up message, and so on.
From a professional standpoint, there are three forms of follow-up emails:
A follow-up email, if two weeks have gone by since you submitted a job application and you haven't heard anything back
A thank-you email to be sent immediately after an interview
A follow-up email, if two weeks have gone by since the interview and you haven't heard anything further
If some time has passed after you've submitted an application, consider taking a moment to send a follow-up. Standard practice is about two weeks. Worst case scenario, you'll hear radio silence again. No harm done.
Dear Mr. Parker:

Earlier this month, I submitted an application for the position of Digital Marketing Manager. I appreciate how busy you are, but I thought I'd follow up on the status of my application.

If I may, I'd like to reiterate my interest in the position. I'd be delighted to join the ranks of ABC Digital, and I know my skills and experience would benefit your team. In particular, my three years as an SEO Specialist at XYZ Technology make me a strong candidate.

If there's anything else I can provide to aid in your decision making, I'd be happy to provide it. I can be reached anytime at (212) 123-4578 or bmacsweeney@email.com. I look forward to hearing from you soon!

Thank you for your time and consideration,

Betty MacSweeney
24 Hours After an Interview
Remember, expediency is key. It demonstrates enthusiasm and all-around professionalism. In your thank-you email, you're going to want to express gratitude, remark on something you learned, tie yourself back to the position, and close with more thanks. See the tips below for more on this.
Dear Mr. Parker: [Use a colon in formal settings.]

Thank you for taking the time to meet with me today. I enjoyed learning more about the Digital Marketing position within ABC Digital. It's an excellent match for my skills and interests, given my background as an SEO Specialist.

Your award-winning team and superb sense of camaraderie confirmed my desire to become a member of your team. In addition to my enthusiasm, I'd also bring my social media expertise, time management skills and team player mentality to the department.

Thank you again for reserving an hour out of your busy schedule to interview me today. I remain very interested in becoming a part of your team and look forward to speaking with you again!

Sincerely,

Rosemary Olsen
rolsen@email.com
[LinkedIn URL]
[Website]
Below, you'll find an editable interview follow up email template. Feel free to use it to devise a professional response that just might land you the job of your dreams!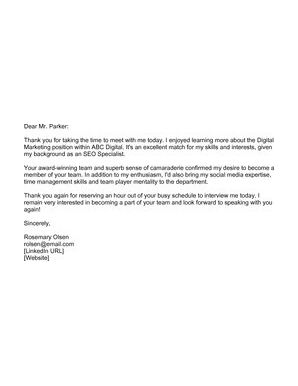 Two Weeks After an Interview
After the excitement of an interview, if two weeks have passed without any further communication, feel free to send a gentle, brief follow-up.
Dear Mr. Parker:

I hope you're doing well! It was so nice to meet with you two weeks ago to discuss the role of Digital Marketing Manager at ABC Digital.

I thought I'd check in to see where things stand in the hiring process. I'm looking forward to your update!

If there's anything else I can provide to help in the decision-making process, I'd be happy to do so. Thank you again for your time!

Sincerely,

Margaret Rose
mrose@email.com
(212) 123-4578
Now that you've reviewed some samples, let's discuss the basic ingredients that made up each example letter above. Below, you'll find some writing tips, some general tips, and some dos and don'ts.
Before you sit down to write your letter, consider the writing tips below. They'll help you take the thoughts floating around in your mind and mold them into an eloquent note.
Express gratitude. The interviewer took time out of their busy schedule to sit down with you and explain the position and company in greater detail. Open up with an immediate word of thanks: Thank you for taking the time to meet with you.
Be specific. Mention something specific you learned during the interview that excited you, whether it's about the position or the company as a whole.
Tie yourself back to the position. After mentioning something specific, relate your skill set back to the position. For example, "In particular, my three years as an SEO Specialist at XYZ Technology make me a strong candidate."
Express enthusiasm. Take a moment to express your enthusiasm about the role. Mention your eagerness to learn more.
Invite further conversation. While the interviewer may not take you up on it (perhaps they learned everything they needed to know in the interview), invite him or her to reach out to you if they have any further questions.
Sign off with gratitude. Then, it's time to sign off. Offer another brief word of thanks and fall back on a standard, professional sign off. Common examples include "Sincerely," "Thank you for your time," and "Gratefully yours."
Once you've nailed down the key points you want to cover, consider these other defining details. Paramount to all of them is the need for a prompt response.
Be prompt. Every moment you wait to send an interview follow-up diminishes its potency. Be sure to send your follow-up note that same afternoon or first thing the following morning.
Be concise. A follow-up email isn't meant to be an essay. Rather, it's meant to accomplish the five points outlined above. Express gratitude for the interviewer's time. Mention something specific about the conversation. Relate your skills back to the position and sign off with one more word of thanks. Here are 10 Tips for Writing Clear, Concise Sentences.
Edit ruthlessly. Of all the emails you'll write in your life, this is the one that has to be absolutely perfect, from a grammatical standpoint. Re-read your message carefully, ensuring your grammar is on point. Take a look at the five most common grammatical errors so you can steer clear of them.
In these important moments, it helps to read a message aloud as you listen for any oddities. Also, make sure you've spelled the interviewer's first and last name correctly and, if several people were present, send each of them a personalized note.
With the above templates in hand, you can tailor a professional, yet friendly, response to any prospective employer. Once you've drafted a stellar note, try to keep the following dos and don'ts in mind.
Do consider the subject line of your email. Although most of the focus will be on the content of your message, don't overlook the subject line. It's the first thing the interviewer will see. Include two things in the subject line: the position you interviewed for and the words "thank you" (e.g., "Thank You - Digital Marketing Manager Interview").
Do include pertinent links. Use this opportunity to attach any pertinent writing samples or digital portfolios in your email. Towards the end of your message, simply direct the interviewer to your digital portfolio or LinkedIn profile and leave it at that.
Don't drone on. Concision is key. Consider the packed schedule of your interviewer. It's impossible to cover every little detail in one interview, so trust the fact that you gave it your all, and a neat and tidy follow-up email will be more than enough.
Don't be a pest. The harsh reality is you might not hear a reply to any of your follow-up emails. Remember, the interviewer probably has a list of people he or she needs to meet with, along with their everyday tasks. Be willing to accept the fact that you might not hear a response. Then, try to stick to the two-week rule.
The trouble with interviewing is that, to a degree, it's out of your hands. All you can do is dress professionally, act professionally, and return home to draft a killer thank you letter. Beyond that, the rest is out of your hands. If the position is meant to be yours, it will be. If you don't land this role, it simply means a better job is out there for you.
Do you feel like it's time to give your resume a refresh? Check out these resume writing examples to see if there's anything you want to add or take away. While you're editing, try to avoid these 20 words. And, finally, see if any of these keywords will give your resume a little boost. Until then, remain positive with grateful, trusting the right thing will your way!