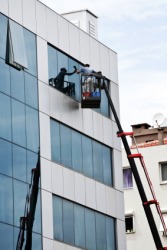 An elevated window cleaner.
---
elevated definition by Webster's New World
adjective
lifted up; raised; high
exalted; dignified; lofty
high-spirited; exhilarated
higher than normal: an elevated temperature
Webster's New World College Dictionary Copyright © 2010 by Wiley Publishing, Inc., Cleveland, Ohio. Used by arrangement with John Wiley & Sons, Inc.
---
elevated definition by American Heritage Dictionary
adjective
a. Raised especially above the ground: an elevated platform.

b. Increased in amount or degree: an elevated temperature.

a. Morally or intellectually superior.

b. Formal; lofty: an elevated prose style.

Elated in feeling or mood; high-spirited.
noun
An elevated railway.
elevated
Variant of elevate
transitive verb
elevated, elevating
to lift up; raise
to raise the pitch or volume of (esp. the voice)
to raise (a person) in rank or position; promote
to raise to a higher intellectual or moral level
to raise the spirits of; elate; exhilarate
Origin: Middle English elevaten ; from Classical Latin elevatus, past participle of elevare, to raise ; from e-, out plush levare, to make light, lift ; from levis, light