elated

e·lat·ed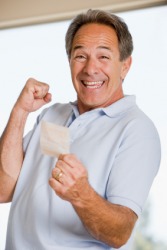 This man is elated.
adjective
The definition of elated is being extremely happy.

When you just won $1 million, this is an example of a time when you would feel elated.
---
elated
adjective
Exultantly proud and joyful.
Related Forms:
---
elated

Adjective
(comparative more elated, superlative most elated)
Verb
Simple past tense and past participle of elate.
Origin
Latin elatus ("raised").
---