adjective
The definition of jovial is defined as someone who is happy and cheerful.

An energetic guest at a party who makes everyone laugh is an example of someone who is jovial.
YourDictionary definition and usage example. Copyright © 2013 by LoveToKnow Corp.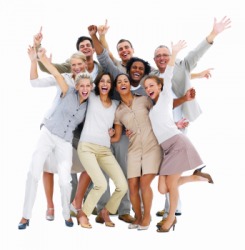 A jovial group of people.
Licensed from iStockPhoto
---
adjective
Jovian
full of hearty, playful good humor; genial and cheerful: from the astrological notion that people born under the sign of Jupiter are joyful
Origin: Fr from Late Latin Jovialis, of Jupiter from Classical Latin Jovis: see Jove
Webster's New World College Dictionary
Copyright © 2010 by Wiley Publishing, Inc., Cleveland, Ohio.
Used by arrangement with John Wiley & Sons, Inc.
---
adjective
Marked by hearty conviviality and good cheer: a jovial host.
Origin: French, probably from Italian giovale, from Old Italian, of Jupiter (regarded as the source of happiness), from Late Latin Ioviālis, from Latin Iuppiter, Iov-, Jupiter; see dyeu- in Indo-European roots.
Related Forms:
The American Heritage® Dictionary of the English Language
, 4th edition Copyright © 2010 by Houghton Mifflin Harcourt Publishing Company. Published by Houghton Mifflin Harcourt Publishing Company. All rights reserved.
---
jovial - Computer Definition
(Jules' Own Version of the International Algebraic Language) An ALGOL-like programming language developed by Systems Development Corp. in the early 1960s and widely used in the military. Its key architect was Jules Schwartz.
Computer Desktop Encyclopedia
THIS DEFINITION IS FOR PERSONAL USE ONLY
All other reproduction is strictly prohibited without permission from the publisher.
© 1981-2014 The Computer Language Company Inc. All rights reserved.
Jovial
Variant of jovial
adjective
Jovian
full of hearty, playful good humor; genial and cheerful: from the astrological notion that people born under the sign of Jupiter are joyful
Origin: Fr from Late Latin Jovialis, of Jupiter from Classical Latin Jovis: see Jove