jolly

jol·ly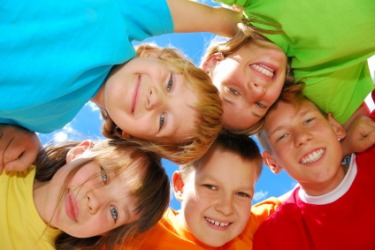 A group of jolly kids.
adjective
The definition of jolly is someone happy or cheerful, or someone or something that is lively and entertaining.

A cheerful Santa Clause figure is an example of someone who would be described as jolly.
A fun night at the pub is an example of something that might be described as a jolly time.
verb
To jolly is defined as to prod someone along or encourage something or someone in a friendly way, or to make something more cheerful and fun.

When you use a good-natured and cheerful voice to prod guests at a party to move from one room to another, this is an example of a time when you jolly them along.
When you put on music at a dull party to make it more fun and cheerful, this is an example of a time when youjolly.
---
jolly
adjective
-·lier

,

-·li·est
full of high spirits and good humor; merry

Informal

enjoyable; pleasant
Origin of jolly
Middle English
joli
from OFr, probably from Old Norse
jol,
yule
adverb
-·lier

,

-·li·est
Brit., Informal
very; altogether
transitive verb
intransitive verb
-·lied

,

-·ly·ing
to try to make (a person) feel good or agreeable, as by coaxing or flattering: often with along
noun
pl.
-·lies
Brit., Informal
a British marine
get one's jollies
Slang
to have fun or get pleasure; often, specif., from that which is cheap or disreputable
---
jolly
adjective
jol·li·er, jol·li·est
Full of good humor and high spirits.
Exhibiting or occasioning happiness or mirth; cheerful: a jolly tune.
Greatly pleasing; enjoyable: had a jolly time.
adverb
Chiefly British
To a great extent or degree; extremely.
verb
jol·lied, jol·ly·ing, jol·lies
verb
transitive
To keep amused or diverted for one's own purposes; humor.
verb
intransitive
To amuse oneself with humorous banter.
noun
pl.
jol·lies
Chiefly British A good or festive time.
jollies Slang Amusement; kicks: However you get your jollies is fine with me.
Origin of jolly
Middle English
joli
from
Old French
perhaps of Scandinavian origin
Related Forms:
---
jolly

---