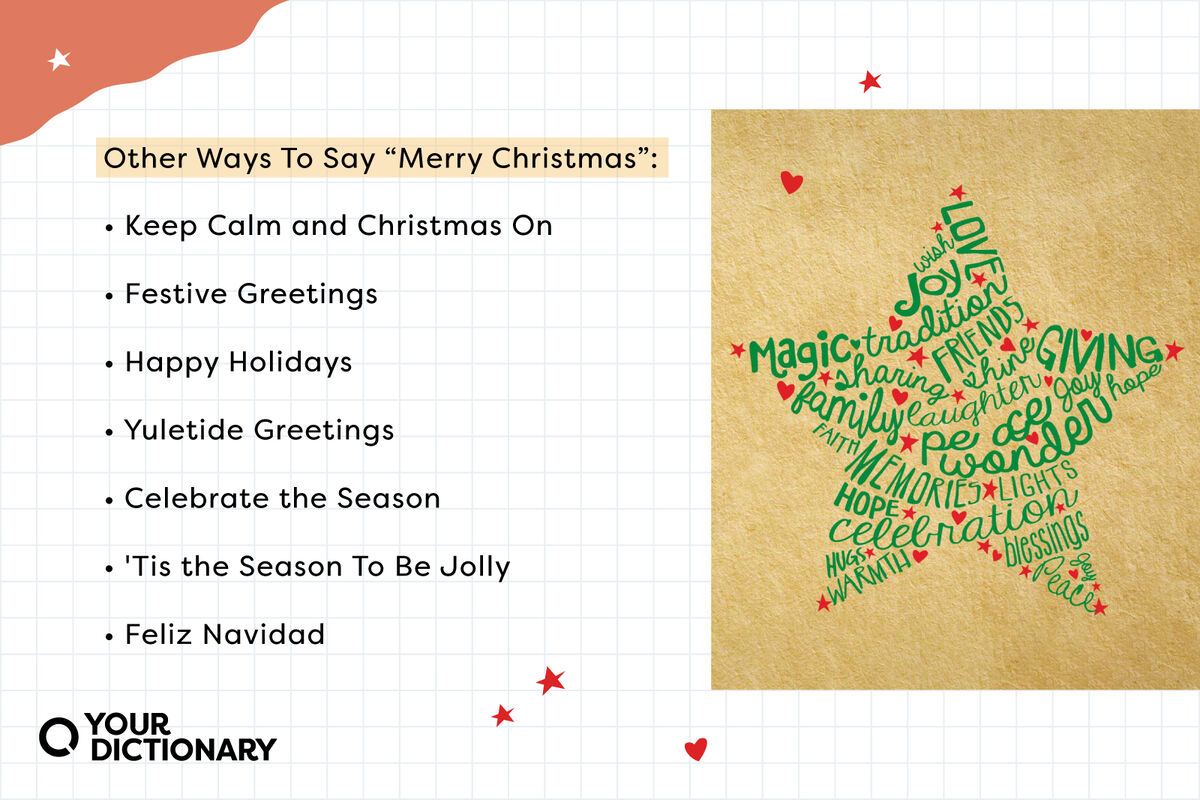 Are you tired of the same old Christmas sayings? There are so many ways to say "Merry Christmas," it would be a shame not to try some out at your next holiday party. Whether you're aiming to be funny, creative, or sentimental, there's a new way to say "Merry Christmas" for every type of holiday spirit. 
What Does "Merry Christmas" Mean?
Merry Christmas is easily one of the most common (if not the most common) Christmas greetings. Merry here is an adjective that means "cheerful and lively." This likely came from the Middle English mirie and Old English myrge, meaning "pleasing, agreeable, pleasant, sweet." All those good-feeling, positive adjectives usually applied to grass, flowers, music, and other things before it ever applied to Christmas.
It's hard to say when Merry Christmas was first used, though it showed up as early as 1534 in England from John Fisher, a bishop of Rochester. Granted, that mention was written as "mery Christenmas."
"Merry" vs. "Happy" in the US and UK
So why merry over the more common happy (as in Happy Birthday, Happy Thanksgiving, Happy New Year)? Part of that comes from the slight differences in meaning.
Happy is a state of being, while merry has a more raucous, active connotation behind it.
Merry might have also gained popularity thanks to Charles Dickens' A Christmas Carol, which used Merry Christmas as its main form.
Now, Merry Christmas is the form most common in the U.S.
While you might still see Merry Christmas in the U.K., Happy Christmas is the more popular and common of the two. The reason? Class differences.
The word merry was considered lower class because it also meant "slightly drunk or tipsy."
Over time, Happy Christmas became the norm because it was considered more "upper class."
Even today, it's the more bougie choice.
Alternatives to "Merry Christmas"
Has saying, "Merry Christmas" lost a bit of its magic due to overuse? Thankfully, there are plenty of other two-word greetings to help celebrate the season. These alternative Christmas greetings work great as a salutation or sign-off in greeting cards, emails, and other correspondences or as a brief greeting in passing.
Celebrate Christmas
Christmas greetings
Christmas blessings
Christmas joy
Happy Christmas
Happy yule
Holiday blessings
Joyous noel
Merry Xmas
Yuletide greetings
Non-Denominational Alternatives to "Merry Christmas"
There are plenty of people in the world who don't celebrate Christmas, but you can still wish them some warmth and good cheer. Winter can be a tough, cold time for people, so a simple, non-denominational greeting can really brighten someone's day.
Festive greetings
Good tidings
Happy holidays
Happy holly-days
Holiday greetings
Merry everything
Season's eatings
Warmest greetings
Warm wishes
Thoughtful Christmas Greetings and Phrases
​​Of course, not all Christmas greetings have to be limited to just two words. These phrases work better as the contents of a Christmas card (or maybe something you'd say to a close friend at a party after too much mulled wine).
Blessings to you at Christmastime.
Build wonderful memories as you celebrate Christmas traditions!
Celebrate the season!
Celebrate the wonder of Christmas!
Celebrate, it's Christmas!
Glad tidings to you and your loved ones.
Greetings for the season!
Happy holidays to the best friends and family in the world!
Here's to a happy and healthy Christmas and New Year.
Joy to you and yours this Christmas season.
May all your Christmas wishes come true.
May the spirit of Christmas be with you every day of the year.
May you grow in hope, faith, love, and charity this Christmas season.
May you create happy memories this holiday season.
May your Christmas be filled with love and laughter.
Merry Christmas to all and to all a good night!
Peace, joy, and love this Christmas.
Sending you warm winter wishes.
May the light of Christmas be with you always.
May your holidays be filled with sparkles and light.
Sending holiday hugs to you and yours.
Smile, it's Christmas!
Tidings of great joy to you on this joyous holiday.
'Tis the season for you and yours to have a wonderful, lovely time!
Warm holiday greetings to you and yours.
Warm tidings and wishes for a blessed holiday.
Wishing you a merry Christmas and happy new year!
Wishing you Christmas cheer!
Fun Ways To Wish Someone a Merry Christmas
If you're looking to express your sense of humor and get a chuckle from the message recipient, consider sharing season's greetings with a lighter tone or even a Christmas pun. You can put these phrases in cards as well, though make sure you know your audience. These might not be welcome in more formal or professional situations. You can otherwise use these in social media posts and captions.
Get into the Christmas spirit, wine, or beer.
Have you been naughty or nice?
Hoping you have some good claus and effect.
Just like Rudolph, you light up my life.
Keep calm and Christmas on.
Keep calm and enjoy Christmas.
Keep on sleighin' it this Christmas!
Let's rock around the Christmas tree, you and me.
May Santa work his magic to the nth degree.
May the Christmas spirit keep on giving.
Mistletoe makes the word go around.
No need to rein it in because it's time for Christmas celebrations!
Oh deer, it's Christmas time!
Relax, it's Christmas!
Santa called; he wants his elves back.
Sparkle and shine this Christmastime
There's snow-body I'd rather spend Christmas with than you.
There's snow-place like home for the holidays.
Yule be sorry if you don't have a great Christmas!
Classic Christmas carols include many combinations of words that are instantly recognizable as Christmas greetings. Consider using words from a beloved Christmas carol, such as the title, as a way of saying "Merry Christmas" to someone during the Christmas season.
"Feliz navidad, prospero año y felicidad" -"Feliz Navidad"
"Hail the new, ye lads and lasses" -"Deck the Halls"
"Have a holly, jolly Christmas" -"Holly Jolly Christmas"
"Have Yourself a Merry Little Christmas"
"It's Beginning to Look a Lot Like Christmas"
"It's the Most Wonderful Time of the Year"
"Let There Be Peace on Earth"
"Rockin' around the Christmas tree, let the Christmas spirit ring" -"Rockin' Around the Christmas Tree"
"'Tis the season to be jolly" -"Deck the Halls"
"We wish you a merry Christmas and a happy new year" -"We Wish You a Merry Christmas"
Different Ways To Say "Merry Christmas" Around the World
Whether you're a blossoming linguist or someone who enjoys unique sayings, it's fun to learn how to say "Merry Christmas" in many different languages. These can be good to include in greeting cards or in person, but make sure that the other person actually gets what you're going for.
Many Ways To Wish "Happy Holidays"