chaff

chaff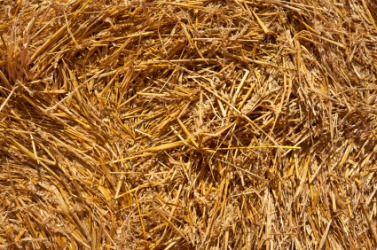 Fine cut straw or chaff.
noun
The definition of chaff refers to useless things, grain husks and fine-cut straw, or light-hearted spoken exchanges.

Trash that you do not want is an example of chaff.
Wheat grains found after threshing is an example of chaff.
Light-hearted teasing and banter is an example of chaff.
verb
To chaff is to tease, especially in a light-hearted way.

When you joke around with someone and tease him, this is an example of a situation where you chaff.
---
chaff
the husks of wheat or other grain separated in threshing or winnowing
fine-cut hay or straw, used for fodder
anything regarded as worthless
tiny strips of metal foil used to confuse enemy radar
good-natured teasing or joking; banter

Bot.

the bracts that enclose the individual florets on the receptacles of certain composite heads
Origin of chaff
Middle English
chaf
from Old English
ceaf
; akin to Middle Dutch
caf
, German
kaff
to tease or ridicule in a good-natured way
---
chaff
noun
Botany Thin dry bracts or scales, especially:

a. The dry bracts enclosing mature grains of wheat and some other cereal grasses, removed during threshing.

b. The scales or bracts borne on the receptacle among the small individual flowers of many plants in the composite family.

Finely cut straw or hay used as fodder.
Trivial or worthless matter: ignored the picky, unimportant criticisms that were just a lot of chaff.
Strips of metal, foil, or glass fiber with a metal content, cut into various lengths and having varying frequency responses, that are used to reflect electromagnetic energy as a radar countermeasure. These materials, usually dropped from aircraft, also can be deployed from shells or rockets.
Origin of chaff
Middle English
chaf
from
Old English
ceaf
Related Forms:
verb
chaffed, chaff·ing, chaffs
verb
transitive
To make fun of in a good-natured way; tease: chaffed him for forgetting the appointment.
verb
intransitive
To engage in playful teasing.
noun
Good-natured teasing; banter.
Origin of chaff
Possibly alteration of
chafe
or
chaff
1
---
chaff

Noun
(uncountable)
The inedible parts of a grain-producing plant.

To separate out the chaff, early cultures tossed baskets of grain into the air and let the wind blow away the lighter chaff.

By extension, any excess or unwanted material, resource, or person; anything worthless.

There are plenty of good books on the subject, but take care to separate the wheat from the chaff.

Straw or hay cut up fine for the food of cattle.
Verb
(third-person singular simple present chaffs, present participle chaffing, simple past and past participle chaffed)
(intransitive) To use light, idle language by way of fun or ridicule; to banter.
To make fun of; to turn into ridicule by addressing in ironical or bantering language; to quiz.
---