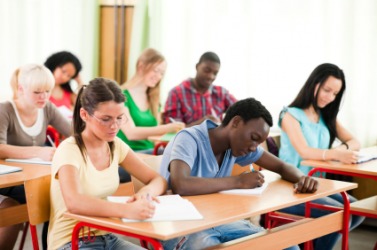 Students taking a quiz.
noun
The definition of a quiz is a questioning or a short test.

An example of a quiz is a series of ten multiple choices questions for students to answer.
verb
To quiz is defined as to test knowledge.

An example of to quiz is to ask students to name all the presidents' last names in order.
---
quiz
noun
pl.
quiz′zes
Obs.

an odd or eccentric person
a practical joke; hoax

a questioning; esp., a short oral or written examination to test knowledge
Origin of quiz
probably arbitrary use of Classical Latin
quis,
what (i.e., what sort of person or thing?)
transitive verb
quizzed

,

quiz′zing
Obs.

to make fun of

Now Rare

to look at, often specif., inquisitively, teasingly, etc.

to ask questions of: to quiz the suspect
to test the knowledge of: to quiz the class
---
quiz
transitive verb
quizzed, quiz·zing, quiz·zes
To question (someone), especially closely or repeatedly: "His searching questions as he quizzed me on my work made me tongue-tied at first" ( Susan Sellers )
To test the knowledge of by posing questions: quizzed the class on state capitals. See Synonyms at ask.
Archaic To poke fun at; mock.
noun
pl.
quiz·zes
A questioning or inquiry.
A short oral or written test.
Archaic A practical joke.
Origin of quiz
Origin unknown
Related Forms:
Word History:
While the origins of
quiz
remain obscure, we can at least trace the development of its senses. The term, first recorded in the late 1700s, originally meant "an odd or eccentric person." From the noun in this sense came a verb meaning "to make sport or fun of" and "to regard mockingly." In English dialects and probably in American English the verb
quiz
acquired senses relating to interrogation and questioning. This presumably occurred because
quiz
was associated with
question, inquisitive,
or perhaps the English dialect verb
quiset,
"to question" (probably itself short for obsolete
inquisite,
"to investigate"). From this new area of meaning came the noun and verb senses all too familiar to students.
---
quiz

Noun
(plural quizzes)
One who or that which quizzes.
(dated) An odd or absurd person or thing.

A competition in the answering of questions.

We came second in the pub quiz.

A school examination of less importance, or of greater brevity, than others given in the same course.
A shorter version of a test. Usually given in a classroom setting.
Verb
(third-person singular simple present quizzes, present participle quizzing, simple past and past participle quizzed)
(archaic) To hoax; to chaff or mock with pretended seriousness of discourse; to make sport of, as by obscure questions.
(archaic) To peer at; to eye suspiciously or mockingly.
To question closely, to interrogate.
To instruct by means of a quiz.
Origin
The true etymology is unknown.
(1790) Originally applied to a popular toy, from a dialectal variant of whiz.
Reputed without evidence to have been invented by a late 18th century Dublin theatre proprietor who bet he could add a new nonsense word to the English language. He thus had the word painted on walls all over the city. The morning after, everyone was talking about the new word.
The original meaning is interrogation (1867), being derived from the verb. Current meaning only since 1941.
The meaning "hoax" is the original (1796), shifting to the meaning "interrogate" (1847) under the influence of to question and inquisitive.
---