quixotic

quix·ot·ic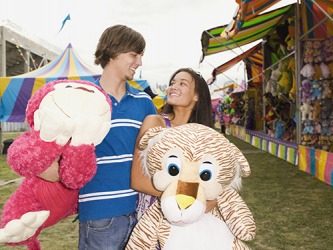 His quixotic strategy to impress his date by winning the large stuffed animals for her at the carnival seemed to be working.
adjective
The definition of quixotic is romantic behavior or following beliefs even though they are foolish or unreachable goals.

An example of quixotic is a young man in love behaving foolishly or wildly.
---
quixotic
[oftenQ-] of or like Don Quixote
extravagantly chivalrous or foolishly idealistic; visionary; impractical or impracticable
---
quixotic
also quix·ot·i·cal
adjective
Caught up in the romance of noble deeds and the pursuit of unreachable goals; idealistic without regard to practicality.
Capricious; impulsive: "At worst his scruples must have been quixotic, not malicious" ( Louis Auchincloss )
Origin of quixotic
From
English
Quixote
a visionary
after
Don Quixote
, hero of a romance by Miguel de Cervantes
Related Forms:
---
quixotic

Adjective
(comparative more quixotic, superlative most quixotic)
Possessing or acting with the desire to do noble and romantic deeds, without thought of realism and practicality; exceedingly idealistic.
Like Don Quixote; romantic to extravagance; absurdly chivalric; apt to be deluded.
Usage notes
Although the term is derived from the name of the character Don Quixote, the letters qu and x are both read as is usual for English spelling (/kw/ and /ks/). In "Don Quixote", by contrast, the pronunciation more closely resembles the modern Spanish (/k/ and /h~x/).
Origin
The surname of Don Quixote, the titular character in the novel by Miguel Cervantes, + -ic
---