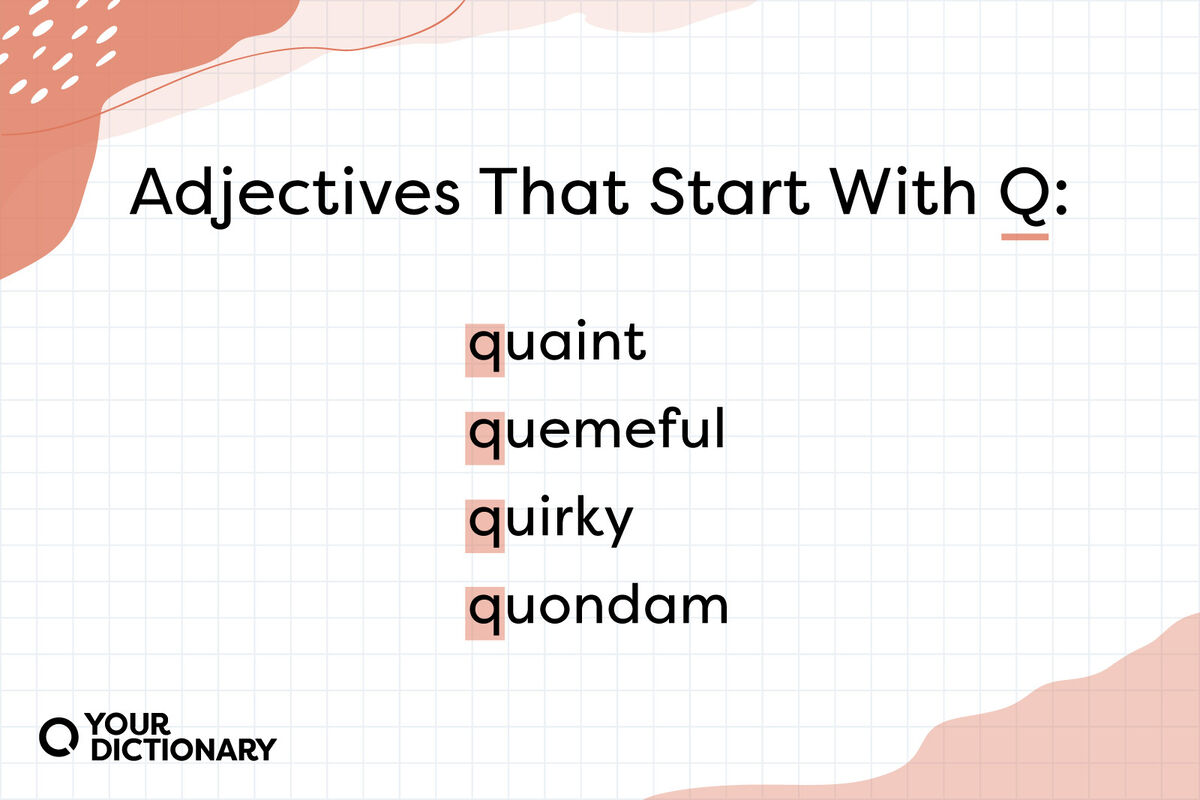 You may not often find yourself in need of any word that starts with "q," much less an adjective that starts with "q." If you live outside of the world of competitive Scrabble, chances are even less likely. While there aren't a ton of commonly used adjectives that start with "q," there are more than you might have expected. Even the less common options are nice to have on hand, just in case.
List of Adjectives That Start With Q
"Q" is a rather demanding letter of the alphabet, as it can rarely stand at the beginning of a word without its buddy "u." Perhaps that's why the adjectival lists are limited. Nevertheless, feel free to stash a few of these in your back pocket for the next time you'd like to add some eloquence to your quips.
| | |
| --- | --- |
| Adjective | Definition |
| qabalistic | cryptic messages or symbols; something that has a hidden meaning |
| quack | medical practitioners who don't know what they're doing; unconventional medical treatments not likely to work |
| quadrangular | a building or structure with four sides |
| quadraphonic | a four-channel sound system with speakers placed in all four corners of a room or other area; precursor to modern surround sound |
| quadratic | a mathematical term that involves calculating the square of a variable |
| quadrilateral | a one-dimensional shape that has four sides, each of which is straight |
| quadruped | descriptive term for an animal with four feet |
| quadruple | an increase by four times; a fourfold in size, quantity or other measure |
| quadruplex | having four units, such as a building that is divided into four separate apartment units |
| quadruplicate | having four identical parts or copies |
| quaggy | descriptive term for land that is boggy or marshlike |
| quaint | unusual or old-fashioned in a pleasing way |
| qualified | having met conditions or requirements set |
| qualitative | subjective measure of quality (as opposed to quantity) |
| quality | excellent, outstanding, meeting a very high standard |
| quantifiable | able to be determined or measured |
| quantitative | an objective, countable measurement |
| quarantined | isolated from others |
| quarrelsome | inclined or ready to quarrel |
| quarterly | occurring every quarter of the year |
| quasi | closely resembling something without being the same |
| quaternary | being made up of four units; being part of a numeric system that has a base of four |
| queasy | affected with nausea; nauseated |
| queenlike | demeanor, adornment or treatment befitting a queen (royalty) |
| queen-size | size descriptor, such as for plus-size pantyhose or a bed that is a side down from king-size |
| queer | differing from what is usual or ordinary, odd, singular; slang term sometimes used to refer to homosexuals |
| quemeful | merciful, showing kindness to others |
| quenched | having satisfied one's thirst |
| quenchless | unable to be stopped or held back |
| querulous | inclined to find fault; full of complaint; peevish |
| questionable | likely to be inaccurate or of poor quality |
| questioning | doubtful or objecting |
| quickest | the fastest or most speedy |
| quick | rapid; swift |
| quicksilver | sudden movement or change that is unpredictable or rapid |
| quick-tempered | easy to anger |
| quick-witted | being able to respond quickly and effectively or accurately |
| quiescent | in a dormant or inactive state; still |
| quiet | still; calm; motionless; hushed |
| quilted | constructed like a quilt |
| quincentennial | being related to the 500th anniversary of an occurrence |
| quinquefolia | descriptive term for a plant or tree that has five leaves |
| quintessential | the most perfect embodiment of something |
| quintuple | something that is made up of five parts or units |
| quirky | having unusual traits or mannerisms |
| quixotic | foolishly idealistic; impractical or impracticable; visionary |
| quizzical | odd; perplexed; questioning |
| quondam | former; of another time |
| quotable | worth quoting or suitable for quotation |
| quotidian | occurring every day |
25 Example Sentences With Q Adjectives
While you may not use a lot of these "q" words in everyday conversation, there are plenty of ways to work these terms into sentences.
The quack doctor my brother went to said exercise would not help him lose weight.
I am planning on building a quadrangular greenhouse behind the barn.
When I was a kid, my family was the first in the neighborhood to purchase a quadraphonic stereo.
We visited a quaint village in Italy where it seemed that nothing there had changed in a hundred years.
Sonia wasn't qualified for the promotion because she did not have at least two years of experience and a Master's degree
This chair is constructed with quality craftsmanship.
The depth of a mother's love for her child is not really quantifiable.
The quarantined family was grateful for friends who delivered food to their home.
Mark and Joe can both be rather quarrelsome.
Please submit your quarterly reports to the manager before noon.
Some people feel queasy after riding a roller coaster.
Did his response to my question seem to be a bit queer to you?
Boy, that lemonade really quenched my thirst.
I don't want to invite her to the party because she is entirely too querulous.
Her questioning look revealed her doubt in me.
A quick walk around the building will cure a mid-afternoon slump.
You were so quiet when you came in last night.
I'm shopping for a new quilted jacket.
Calvin's dog is the quintessential "man's best friend."
Some might say that Genevieve is a bit weird, but I love her quirky charm.
The revolutionaries may have been quixotic, but they weren't dangerous.
My husband gave me a quizzical look when I told my mom we'd see her in a few weeks.
My quondam love for him shall remain in the past.
I find Charles Dickens to be infinitely quotable.
These quotidian tasks are becoming a burden.
Expand Your Knowledge of Q Words
So you see, "q" adjectives are useful for more than just a winning Scrabble score. They can be used in a variety of situations to describe an infinite number of people, places, activities, and ideas. Once you have explored this selection of adjectives that start with the letter "q," discover more about this letter of the alphabet. Explore a list of nouns that start with "q" to learn even more words that begin with this letter.