question

ques·tion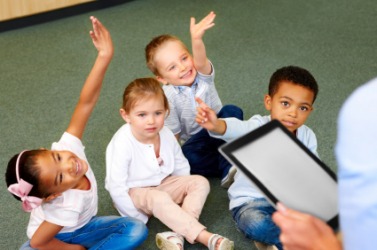 Children raise their hands to ask a question.
noun
The definition of a question is the asking of something.

An example of question is, "What are we having for dinner tonight?"
verb
Question is defined as to ask something or to doubt something.

An example of question is for a parent to ask his child when he plans to be home.
An example of question is for a child to express concern about whether Santa Claus is real.
---
question
an asking; inquiry
something that is asked; interrogative sentence, as in seeking to learn or in testing another's knowledge; query
doubt; uncertainty: no question of his veracity
something in controversy before a court
a problem; matter open to discussion or inquiry
a matter or case of difficulty: not a question of money

a point being debated or a resolution brought up for approval or rejection before an assembly
the procedure of putting such a matter to a vote
Origin of question
Middle English from Anglo-French
questiun
from Old French
question
from Classical Latin
quaestio
from past participle of
quaerere,
to ask, inquire
to ask a question or questions of; interrogate; put queries to
to express uncertainty about; doubt
to dispute; challenge
Origin of question
LME
questyonen
< MFr
questionner
< the n.
to ask a question or questions
beside the question
not related to the subject under discussion
beyond (all) question
beyond dispute; without any doubt; certainly
in question
being considered, debated, etc.
out of the question
impossible; not to be considered
---
question
noun
A sentence, phrase, or gesture that seeks information through a reply.

a. A subject or point that is under discussion or open to controversy: the question of whether a new school should be built.

b. A matter of concern or difficulty; a problem: This is not a question of too little money.

a. A proposition brought up for consideration by an assembly.

b. The act of bringing a proposal to vote.

Law An issue in dispute for the resolution of a court.
Uncertainty; doubt: There is no question about the validity of the enterprise. Her integrity is beyond question.
verb
ques·tioned, ques·tion·ing, ques·tions
verb
transitive
a. To ask a question or questions of (someone).

b.

To interrogate (a suspect, for example). See Synonyms at

ask

.

To pose a question or questions regarding (something); analyze or examine: researchers questioning which of the methods will work.
To express doubt about; dispute: questioned his sincerity; questioned the expense report.
verb
intransitive
To ask questions.
Origin of question
Middle English
from
Old French
legal inquiry
from
Latin
quaestiō
quaestiōn-
from
quaestus
obsolete past participle of
quaerere
to ask, seek
Related Forms:
---
question

---