scruple

scru·ple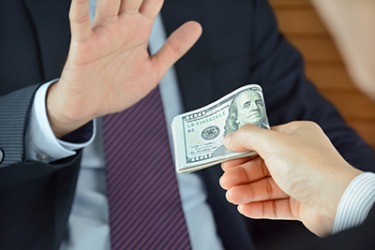 With a scruple that demonstrated his remarkable moral fiber, the businessman refused the bribe that would cause harm to his community.
noun
Scruple is a feeling of doubt or hesitation based on moral grounds, or a very small amount of something.

When you believe it is immoral to lie and you hesitate before lying because of this belief, this is an example of a time when you have scruples about lying.
When you only have a tiny piece of cake, this is an example of a portion which is a scruple.
---
scruple
a very small quantity, amount, or part

an ancient Roman unit of weight equal to ounce
a unit of weight equal to dram apothecaries' weight or 20 grains (1.296 grams): abbrev. sc

a feeling of hesitancy, doubt, or uneasiness arising from difficulty in deciding what is right, proper, ethical, etc.; qualm or misgiving about something one thinks is wrong
[pl.] high ethical standards
Origin of scruple
Middle French
scrupule
from Classical Latin
scrupulus
, small sharp stone (hence small weight, difficulty, doubt), diminutive of
scrupus
, sharp stone from Indo-European an unverified form
skreup-
from base an unverified form
(s)ker-
, to cut
transitive verb
intransitive verb
-·pled

,

-·pling
to hesitate (at) from doubt or uneasiness; be unwilling because of one's conscience; have scruples (about)
---
scruple
noun
An uneasy feeling arising from conscience or principle that tends to hinder action: "He would have taken any life with as little scruple as he took my money" ( Charles Dickens )
A unit of apothecary weight equal to about 1.3 grams, or 20 grains.
A minute part or amount.
intransitive verb
scru·pled, scru·pling, scru·ples
To hesitate as a result of conscience or principle: "A man who could make so vile a pun would not scruple to pick a pocket" ( John Dennis )
Origin of scruple
Middle English
scrupul
from
Old French
scrupule
from
Latin
scrūpulus
small unit of measurement, scruple
diminutive of
scrūpus
rough stone, scruple
---
scruple

Noun
(plural scruples)
Hesitation as to action from the difficulty of determining what is right or expedient; unwillingness, doubt, or hesitation proceeding from motives of conscience.

He was made miserable by the conflict between his tastes and his scruples. - Thomas Babington Macaulay.

A measurement of time. Hebrew culture broke the hour into 1080 scruples.
Verb
(third-person singular simple present scruples, present participle scrupling, simple past and past participle scrupled)
(intransitive) To be reluctant or to hesitate, as regards an action, on account of considerations of conscience or expedience.

We are often over-precise, scrupling to say or do those things which lawfully we may. - Thomas Fuller.
Men scruple at the lawfulness of a set form of divine worship. - Robert South.

To regard with suspicion; to hesitate at; to question.

Others long before them ... scrupled more the books of hereties than of gentiles. - John Milton.

To excite scruples in; to cause to scruple.

Letters which did still scruple many of them. -E. Symmons.
Origin
From Latin scrÅ«pulus ("uneasiness of mind, trouble, anxiety, doubt, scruple, literally a small sharp or pointed stone, the twenty-fourth part of an ounce"), diminutive of scrÅ«pus ("a rough or sharp stone, anxiety, uneasiness"); perhaps akin to Ancient Greek σκύρος (skuros, "the chippings of stone"), ξυρόν (ksuron, "a razor"), Sanskrit क्षुर (ká¹£ura, "a razor"): compare French scrupule.
---