part

part.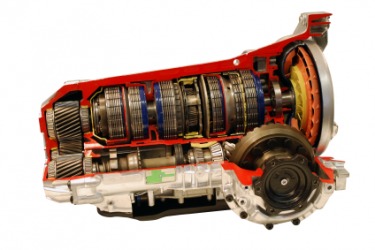 This transmission is part of a car.
noun
The definition of a part is a portion or division of something.

An example of a part is a slice of pie.
An example of a part is a transmission for a car.
verb
To part is defined as to divide something up or to separate.

An example of to part is to slice up a pumpkin pie.
An example of to part is for a couple to break up.
---
part
a portion or division of a whole; specif.,

any of several equal portions, quantities, numbers, pieces, etc. of which something is composed or into which it can be divided: a cent is a 100th part of a dollar
an essential element or constituent; integral portion which can be separated, replaced, etc.: automobile parts
a portion detached or cut from a whole; fragment; piece
a certain amount but not all: to lose part of one's fortune
a certain amount or section regarded as separate or distinct in some way: a rainy part of the country
a segment or organ of the body of humans and animals
a division of a literary work

Math.

an aliquot part

a portion assigned or given; share; specif.,

something a person must do; share of work or duty: to do one's part
interest or concern: to have some part in a matter
[usually pl.] talent; ability: a man of parts
a character or role in a theatrical presentation; also, the words, actions, etc. of a character in a play

Music

the score for a particular voice or instrument in a concerted piece; also, any of the voices or instruments in a musical ensemble

a region; area
[usually pl.] a portion of a country; district

one of the different sides or parties in a transaction, dispute, conflict, etc.: now rare except in the phrase take someone's part (see below) or in legal use: the party of the first part
the dividing line formed by combing the hair in different directions
Origin of part
Middle English from Old English and OFr, both from Classical Latin
pars
(gen.
partis
) from Indo-European base an unverified form
per-,
to sell, hand over in sale, make equal from source Classical Latin
par,
equal,
parare,
to equate
to break or divide into separate parts
to comb (the hair) in different directions so as to leave a dividing line
to break up (a connection or relationship) by separating those involved
to separate (two or more persons or things); break or hold apart
to separate (substances) as by a chemical process

Archaic

to distribute; share; apportion

Naut.

to break or undergo the breaking of (a hawser, chain, etc.)
Origin of part
ME
parten
< OFr
partir
< L
partire,
to divide, separate < the n.
to break or divide into two or more pieces
to separate and go different ways, as branches of a river
to separate; leave each other; cease associating

to go away; leave; depart: with from
to die
of or having to do with only a part; partial
for one's part
as far as one is concerned
for the most part
in the greatest part or to the greatest extent; mostly; generally
in good part
good-naturedly
generally; mostly
in part
to a certain extent or degree; partly
on the part of someone
as far as someone is concerned
by or coming from someone
part with
to give up; let go; relinquish
play a part
to behave unnaturally in an attempt to deceive
to participate or share
take someone's part
to support someone in a struggle or disagreement; side with someone
participial
participle
particular
---
part
noun
A portion, division, piece, or segment of a whole.
Any of several equal portions or fractions that can constitute a whole or into which a whole can be divided: a mixture of two parts flour to one part sugar.
A division of a book or artistic work such as a film: a novel in three parts.

a. An organ, member, or other division of an organism: A tail is not a part of a guinea pig.

b. parts The external genitals.

A component that can be separated from or attached to a system; a detachable piece: spare parts for cars.
often parts A region, area, land, or territory: "Minding your own business is second nature in these parts" ( Boston )

a. A role: He has the main part in the play.

b. One's responsibility, duty, or obligation; share: We each do our part to keep the house clean.

c. parts Abilities or talents: a person of many parts.

Music

a. The music or score for a particular instrument, as in an orchestra.

b. One of the melodic divisions or voices of a contrapuntal composition.

The line where the hair on the head is parted.
verb
part·ed, part·ing, parts
verb
transitive
a. To cause to move apart; put apart: parted the curtains.

b. To divide into two or more parts; split: The ship's prow parted the waves.

To break up the relationship or association of: A dispute over ownership parted the founders of the business. See Synonyms at separate.
To comb (hair, for example) away from a dividing line, as on the scalp.
To go away from; depart from: He parted this life for a better one.
Archaic To divide into shares or portions.
verb
intransitive
a. To be divided or separated: The curtain parted in the middle.

b. To move apart: Her lips parted, and she spoke.

a. To leave one another; take leave: They parted as friends.

b. To go away from another; depart: She parted from him at college graduation.

c. Archaic To die.

To separate or divide into ways going in different directions: The road parts about halfway into the forest.
To disagree or stop associating because of a disagreement: The committee parted over the issue of pay raises for employees.
adverb
Partially; in part: part yellow, part green.
adjective
Not full or complete; partial: a part owner of the business.
Phrasal Verbs:
part with
To give up or let go of; relinquish:
I would not part with that book.
To go away from (another):
You should not part with him in anger.
Origin of part
Middle English
from
Old French
from
Latin
pars
part-
; see
perə-
2
in Indo-European roots.
part.
abbreviation
participle
particle
partitive
---
part

---