partition

par·ti·tion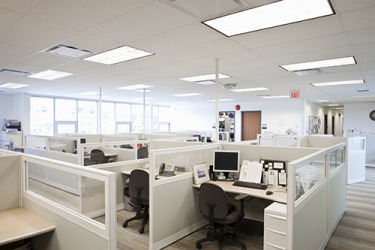 The office space has been partitioned into semi private cubicles.
noun
The definition of a partition is a structure or item that divides something, such as a room, into parts.

When a wall is built that divides up a room, this wall is an example of a partition.
verb
To partition is to divide something into parts.

An example of partition is when you divide a hard drive into separate areas.
An example of partition is dividing a room into separate areas.
---
partition
a parting or being parted; division into parts; separation; apportionment
something that separates or divides, as an interior wall dividing one room from another
a part or section; portion; compartment

Law

the process of dividing property and giving separate title to those who previously had joint or common title
Origin of partition
Middle English
particioune
from Classical Latin
partitio
to divide into parts or shares; apportion
to set off or divide by a partition
---
partition
noun
a. The act or process of dividing something into parts.

b. The state of being so divided.

a. Something that divides or separates, as a lightweight wall dividing one room or cubicle from another.

b. A wall, septum, or other separating membrane in an organism.

A part or section into which something has been divided.
Division of a country into separate, autonomous nations.
Mathematics

a. An expression of a positive integer as a sum of positive integers.

b. The decomposition of a set into a family of disjoint sets.

Computers A section of storage space on a hard disk.
Law Division of property, especially real property, between co-owners into equivalent, separately owned portions or shares.
transitive verb
par·ti·tioned, par·ti·tion·ing, par·ti·tions
To divide into parts, pieces, or sections.
To divide or separate by means of a partition: We partitioned off the alcove to make another bedroom.
To divide (a country) into separate, autonomous nations.
Origin of partition
Middle English
particioun
from
Old French
partition
from
Latin
partītiō
partītiōn-
from
partītus
past participle of
partīre
to divide
from
pars
part-
part
; see
part
.
Related Forms:
---
partition

Noun
(plural partitions)
An action which divides a thing into parts, or separates one thing from another.
A part of something that has been divided.
The division of a territory into two or more autonomous ones.

Monarchies where partition isn't prohibited risk weakening trough parcellation and civil wars between the heirs

That which divides or separates; that by which different things, or distinct parts of the same thing, are separated; boundary; dividing line or space.
A part divided off by walls; an apartment; a compartment.
(law) The severance of common or undivided interests, particularly in real estate. It may be effected by consent of parties, or by compulsion of law.
(databases) A division of a database or one of its constituting elements such as tables into separate independent parts.
(set theory) A collection of non-empty, disjoint subsets of a set whose union is the set itself (i.e. all elements of the set are contained in exactly one of the subsets).
Usage notes
(set theory): The elements of the collection are sometimes called the blocks or parts of the partition.
Verb
(third-person singular simple present partitions, present participle partitioning, simple past and past participle partitioned)
To divide something into parts, sections or shares
To separate or divide a room by a partition (ex. a wall), often use with off
Origin
Recorded c.1430, "division into shares, distinction," from Old French particion (modern partition), from Latin partitio ("division, portion"), from partitus, the past participle of partire ("to split (up), part(ition)").
---
partition - Computer Definition
A reserved part of a storage drive (hard disk, SSD) that is treated as a separate drive. A single drive is also assigned a partition that takes up all the space. For example, older Windows PCs came with the entire disk partitioned as drive C:. New Windows PCs often come with the storage drive partitioned into C: and D: drives. The C: drive is the main drive, and the D: drive contains a recovery system in the event Windows has to be re-installed. In addition, users may wish to have several drives for organizational purposes, and utility programs come with every computer for adding and modifying partitions. See primary partition, extended partition, basic disk and dynamic disk.
---
partition - Legal Definition
n
A separator of one space from another; a separation by a court of real estate owned jointly into two or more separately owned parcels, so that each of the former joint owners may enjoy having his or her own estate.
v
to separate a single parcel into two. 
---