fence

fence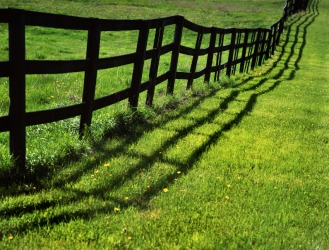 A wooden fence.
noun
The definition of a fence is a dealer of stolen goods.

An example of a fence is a person at the flea market selling stolen car stereos.

A fence is defined as a barrier used for protection or to create a boundary.

An example of a fence is a two foot wooden barrier around a person's front yard.
verb
Fence means to use bladed weapons for sport or fighting.

An example of to fence is how the character Inigo Montoya from the movie The Princess Bride fought his battles.
---
fence
Obs.

a protection; defense
a barrier, as of wooden or metal posts, rails, wire mesh, etc., used as a boundary or means of protection or confinement
the art of self-defense with foil, saber, or epee; fencing

a person who deals in stolen goods
a place where stolen goods are bought and sold

Baseball

the fence, wall, etc. at the back of the outfield: a hit over this is a home run
Origin of fence
Middle English
fens
, aphetic for
defens
, defense
transitive verb
fenced

,

fenc′ing
to enclose, restrict, or hamper with or as with a fence: with in, off, etc.
to keep (out) by or as by a fence

Archaic

to ward off; protect; defend
to sell (stolen property) to a fence
to practice the art of fencing
to avoid giving a direct reply; be evasive (with); parry
to deal in stolen goods
mend one's fences
to engage in politicking; look after one's political interests
on the fence
uncommitted or undecided in a controversy
---
fence
noun
A structure serving as an enclosure, a barrier, or a boundary, usually made of posts or stakes joined together by boards, wire, or rails.
An adjustable guide with a flat edge used on a table saw and positioned parallel to the plane of the cutting attachment in order to keep the board properly positioned for the cut to be made at the correct distance from the board's edge.

a. One who receives and sells stolen goods.

b. A place where stolen goods are received and sold.

Archaic A means of defense; a protection.
verb
fenced, fenc·ing, fenc·es
verb
transitive
To surround or enclose with a fence or other barrier. See Synonyms at enclose.
To separate or keep out by means of a fence or other barrier: fenced off one field from another; fenced out the deer from the garden.
To sell (stolen goods) to a fence.
Archaic

a. To ward off; keep away.

b. To defend.
verb
intransitive
To practice the art or sport of fencing.
To avoid giving direct answers; hedge.
To act as a conduit for stolen goods.
Origin of fence
Middle English
fens
short for
defens
defense
; see
defense
.
Related Forms:
---
fence

Noun
(plural fences)
A thin, human-constructed barrier which separates two pieces of land or a house perimeter.
A middleman for transactions of stolen goods.
The place whence such a middleman operates.
Skill in oral debate.
The art or practice of fencing.
(figuratively) A barrier, for example an emotional barrier.
Verb
(third-person singular simple present fences, present participle fencing, simple past and past participle fenced)
to defend or guard
(intransitive, sports) to engage in (the sport) fencing
(intransitive, equestrianism) to jump over a fence
Origin
The original meaning is "the act of defending", from Middle French defens (see defence), adopted in the 14th century. The sense "enclosure" arises in the mid 15th century. Also from the 15th century is use as a verb in the sense "to enclose with a fence". The generalized sense "to defend, screen, protect" arises ca. 1500. The sense "to fight with swords (rapiers)" is from the 1590s (Shakespeare).
---
fence - Legal Definition
n
v
An individual who buys and resells stolen goods or receives them on consignment.
To buy stolen goods for resale, or receive them on consignment.
---