duel

du·el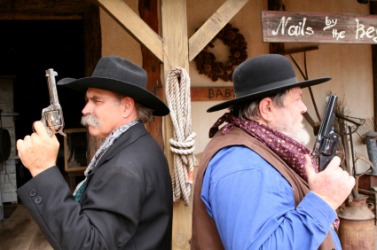 Two men face off for a duel.
noun
The definition of a duel is a fight between two people either verbal or with weapons.

An example of a duel is two politicians arguing at a debate.
An example of a duel is a fight between two gentleman using pistols.
verb
To duel is defined as to fight.

An example of duel is to fence.
---
duel
a formal fight between two persons armed with deadly weapons: it is prearranged and witnessed by two others (called seconds), each representing a combatant
any contest or encounter suggesting such a fight, usually between two persons: a verbal duel
Origin of duel
Middle English
duelle
from Medieval Latin
duellum
from Old Latin
dvellum
(L
bellum
), war from Indo-European base an unverified form
d?u-, an unverified form deu-
, to injure, destroy, burn from source Sanskrit
d?
, pain, Old English
teona
, harm
intransitive verb
transitive verb
-·eled

or

-·elled

,

-·el·ing

or

-·el·ling
to fight a duel with (a person or persons)
---
duel
noun
A prearranged, formal combat between two persons, usually fought to settle a point of honor.
A struggle for domination between two contending persons, groups, or ideas.
verb
du·eled, du·el·ing, du·els,
or
du·elled
du·el·ling
verb
transitive
To engage (another) in or as if in formal combat.
To oppose actively and forcefully.
verb
intransitive
To engage in or as if in formal combat.
Origin of duel
Middle English
duelle
from
Medieval Latin
duellum
from
Latin
war
archaic variant of
bellum
Related Forms:
---
duel

---