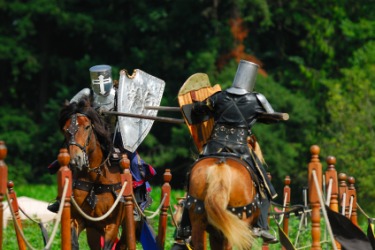 Two medieval knights participating in a joust.
noun
The definition of joust is a combat sport between two knights on horseback carrying a long sharp weapon, or a series of contests in a game or sport.

An example of joust is a sport played in medieval times.
verb
Joust is defined as to be in combat or sport against another knight on horseback with a long thin sharp weapon.

An example of joust is riding on the back of horse during a tournament at the Renaissance Fair.
---
joust
a combat or contest with lances, as between two medieval knights on horseback; esp., such a formal combat as part of a tournament
[pl.] a tournament
Origin of joust
Middle English
jouste
from Old French from
jouster:
see joustthe intransitive verb
to engage in a joust
Origin of joust
ME
justen
< OFr
jouster, juster
< VL *
juxtare,
to approach, tilt < L
juxta:
see juxta-
---
joust
also just
noun
a. A combat between two mounted knights or men-at-arms using lances; a tilting match.

b. jousts A series of tilting matches; a tournament.

A personal competition or combat suggestive of combat with lances: a politician who relishes a joust with reporters.
intransitive verb
joust·ed, joust·ing, jousts,
also
just·ed
just·ing
justs
To engage in mounted combat with lances; tilt.
To engage in a personal combat or competition.
Origin of joust
Middle English
from
Old French
juste
from
juster
to joust
from
Vulgar Latin
iūxtāre
to be next to
from
Latin
iūxtā
close by
; see
yeug-
in Indo-European roots.
Related Forms:
---
joust

Verb
(third-person singular simple present jousts, present participle jousting, simple past and past participle jousted)
---