combat

com·bat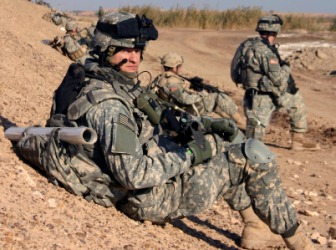 Combat soldiers in Iraq.
noun
The definition of a combat is a battle or struggle.

An example of a combat is a street fight.
verb
Combat means to fight or struggle.

An example of combat is for a superhero to fight a criminal.
---
combat
intransitive verb
-·bat′ed

or

-·bat′ted

,

-·bat′ing

or

-·bat′ting
to fight, contend, or struggle
Origin of combat
French
combattre
from Vulgar Latin an unverified form
combattere
from Classical Latin
com-,
with +
battuere,
to beat, fight: see batter
to fight or struggle against; oppose, resist, or seek to get rid of
armed fighting; battle
any struggle or conflict; strife
Origin of combat
Fr < the v.
---
combat
verb
com·bat·ed, com·bat·ing, com·bats,
or
com·bat·ted
com·bat·ting
verb
transitive
To oppose in battle; fight against.
To act or work in order to eliminate, curtail, or stop: efforts to combat crime; drugs that combat infection. See Synonyms at oppose.
verb
intransitive
Archaic
To engage in fighting; contend or struggle.
noun
Fighting, especially with weapons: naval combat.
Contention or strife: rhetorical combat.
adjective
Of or relating to combat: flew 50 combat missions.
Intended for use or deployment in combat: combat boots; combat troops.
Origin of combat
French
combattre
from
Old French
from
Late Latin
combattere
Latin
com-
com-
Latin
battere
to beat
(
alteration of
battuere
)
---
combat

---