engagement

en·gage·ment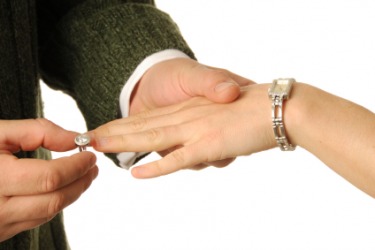 This man offers a woman a ring of engagement.
noun
The definition of an engagement is an appointment, a promise to marry someone or a period of employment.

An example of an engagement is a holiday party.
An example of an engagement is a woman accepting a man's offer of marriage.
An example of an engagement is a one year contract with a cruise ship.
---
engagement
an engaging or being engaged; specif.,

a promise; pledge
a promise of marriage; betrothal
an arrangement to go somewhere, do something, meet someone, etc.; appointment
employment or period of employment, esp. in the performing arts
a conflict; battle
[usually pl.] financial obligations; commitments
state of being in gear

something that engages
---
engagement
noun
a. The action of engaging or the state of being engaged: engagement in diplomacy.

b. The condition of being in gear: engagement of the transmission.

a. A mutual promise to get married.

b. The period during which this promise is kept: a long engagement.

A pledge or obligation: meeting one's engagements.
A promise or agreement to be at a particular place at a particular time: a dinner engagement.

a. Employment, especially for a specified time: his engagement with the firm.

b. A specific, often limited, period of employment: a speaking engagement.

A hostile encounter; a battle.
---
engagement

Noun
(plural engagements)
(countable) an appointment, especially to speak or perform

The lecturer has three speaking engagements this week.

(uncountable) connection or attachment

Check the gears for full engagement before turning the handle.

(countable or uncountable) the period of time when marriage is planned or promised

We are enjoying a long engagement, but haven't yet set a date.

In any situation of conflict, an actual instance of active hostilities.

The engagement resulted in many casualties.

(fencing) the point at which the fencers are close enough to join blades, or to make an effective attack during an encounter.

After engagement it quickly became clear which of the fencers was going to prevail.
---