date

date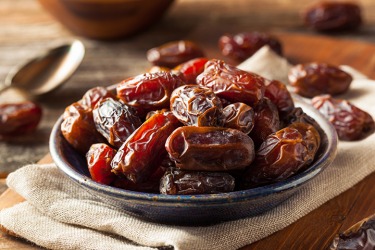 Dates in a bowl.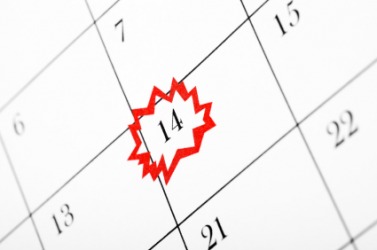 A date circled on a calendar.
noun
Date is defined as a particularly day of the month or day, month and year or a social outing between two people.

An example of date is October 9, 1925.
An example of date is two people meeting for coffee.
verb
The definition of date is to belong to a particular time period or to assign a time period to something or to go out with someone due to romantic interests.

An example of date is to make paper to look older by burning the edges.
An example of date is to determine that a photograph was taken in a specific year based on the clothing of the individuals in the photograph.
An example of date is for a man to take his girlfriend to the movies.
---
date
a statement, as on a document or coin, specifying when it was made
the time at which a thing happens or is done
the time that anything lasts or goes on
[pl.] a person's birth and death dates, usually expressed in years
the day of the month

an appointment for a set time, esp. one for a social engagement with a person with whom one is having or considering having a romantic or sexual relationship
such an engagement
a person with whom one has such an engagement
Origin of date
Middle English from Old French from Classical Latin
data
, feminine of
datus
, past participle of
dare
, to give (the first word in Roman letters, giving the place and time of writing, as
data Romae
, literally , given at Rome) from Indo-European base an unverified form
d?-
, to give from source Classical Greek
d?ron
, gift,
didonai
, to give, Russian
dat'
, to give
transitive verb
dat′ed

,

dat′ing
to mark (a letter, etc.) with a date
to find out, determine, set, or record the date of
to assign a date to

to show or reveal as typical of a certain period or age
to make seem old-fashioned or out-of-date

to reckon by dates
to have a date or dates with
to belong to, or have origin in, a definite period in the past: usually with from
to be or seem outdated or old-fashioned
to have dates (see datenoun above): I seldom dated while attending college
up to date
in or into agreement with the latest facts, ideas, styles, etc.
the sweet, fleshy fruit of the date palm, having a large, hard seed
date palm
Origin of date
Middle English from Old French from Classical Latin
dactylus
from Classical Greek
daktylos
, a date, probably from Sem, as in Arabic
dáqal
, date palm
---
date
noun
a. The time stated in terms of the day, month, and year: What is the date of your birth?

b. A statement of calendar time, as on a document.

a. A particular point or period of time at which something happened or existed, or is expected to happen: the date of their wedding.

b. dates The years of someone's birth and death: Beethoven's dates were 1770 to 1827.

The time during which something lasts; duration: "Summer's lease hath all too short a date" ( Shakespeare )
The time or historical period to which something belongs: artifacts of a later date.
An appointment: a luncheon date with a client. See Synonyms at engagement.

a. An engagement to go out socially with another person, often out of romantic interest.

b. One's companion on such an outing.

An engagement for a performance: has four singing dates this month.
verb
dat·ed, dat·ing, dates
verb
transitive
To mark or supply with a date: date a letter.
To determine the date of: date a fossil.
To betray the age of: Pictures of old cars date the book.
To go on a date or dates with.
verb
intransitive
To have origin in a particular time in the past: This statue dates from 500 BC.
To become old-fashioned.
To go on dates.
Origin of date
Middle English
from
Old French
from
Medieval Latin
data
from
Latin
data (Romae)
issued (at Rome) (on a certain day)
feminine past participle of
dare
to give
; see
dō-
in Indo-European roots.
Related Forms:
dat′a·ble date′a·ble

adjective
noun
The sweet, edible, oblong or oval fruit of the date palm, containing a narrow, hard seed.
A date palm.
Origin of date
Middle English
from
Old French
from
Old Provençal
datil
from
Latin
dactylus
from
Greek
daktulos
finger, date (from its shape)
---
date

Noun
(plural dates)
The fruit of the date palm, Phoenix dactylifera, somewhat in the shape of an olive, containing a soft, sweet pulp and enclosing a hard kernel.

We made a nice cake from dates.

The date palm.

There were a few dates planted around the house.
Origin
From French datte, from Latin dactylus, from Ancient Greek δάκτυλος (daktulos, "finger") (from the resemblance of the date to a human finger), probably from a Semitic source such as Arabic دقل (dáqal, "variety of date palm") or Hebrew דֶּקֶל (deqel, "date palm").
Noun
(plural dates)
That addition to a writing, inscription, coin, etc., which specifies the time (as day, month, and year) when the writing or inscription was given, or executed, or made.
The point of time at which a transaction or event takes place, or is appointed to take place; a given point of time; epoch; as, the date of a battle. A specific day.

the date for pleading

Do you know the date of the wedding?
We had to change the dates of the festival because of the flooding.

A point in time

You may need that at a later date.

(rare) Assigned end; conclusion.
George Chapman (translat), Homer (auth), The Odysseys of Homer, Volume 1, Book IV, lines 282–5,

As now Saturnius, through his life's whole date,
Hath Nestor's bliss raised to as steep a state,
Both in his age to keep in peace his house,
And to have children wise and valorous.

A pre-arranged social meeting.

I arranged a date with my Australian business partners.

A companion when one is partaking in a social occasion.

I brought Melinda to the wedding as my date.

A meeting with a lover or potential lover, or the person so met.

We really hit it off on the first date, so we decided to meet the week after.
We slept together on the first date.
The cinema is a popular place to take someone on a date.
Verb
(third-person singular simple present dates, present participle dating, simple past and past participle dated)
To note the time of writing or executing; to express in an instrument the time of its execution.

to date a letter, a bond, a deed, or a charter

To note or fix the time of, as of an event; to give the date of.
To determine the age of something.

to date the building of the pyramids

To take (someone) on a series of dates.
To have a steady relationship with, to be romantically involved with.
(intransitive) Of a couple, to be in a romantic relationship.
(intransitive) To become old, especially in such a way as to fall out of fashion, become less appealing or attractive, etc.

This show hasn't dated well.

(intransitive, with from) To have beginning; to begin; to be dated or reckoned.
Usage notes
To note the time of writing one may say dated at or from a place.
---