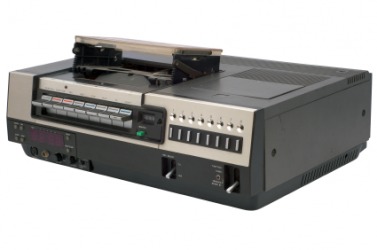 A VCR player is obsolete technology.
adjective
The definition of obsolete is something that is no longer being used or is out of date.

An example of obsolete is the vcr.
An example of obsolete is a Sony Walkman.
---
obsolete
no longer in use or practice; discarded
no longer in fashion; out-of-date; passé

Biol.

rudimentary or poorly developed as compared with its counterpart in other individuals of a related species, the opposite sex, etc.; vestigial: said of an organ, etc.
Origin of obsolete
Classical Latin
obsoletus,
past participle of
obsolescere,
to go out of use from
ob-
(see ob-) + an unverified form
-solescere
( from
exolescere,
to grow out of use from
ex-,
ex- + uncertain or unknown; perhaps
alescere
, to increase: see adolescent)
transitive verb
-·let·ed

,

-·let·ing
to make obsolete, as by replacing with something newer
---
obsolete
adjective
No longer in use: an obsolete word.
Outmoded in design, style, or construction: an obsolete locomotive.
Biology Vestigial or rudimentary, especially in comparison with related or ancestral species, as the tailbone of an ape. Used of an organ or other part of an organism.
transitive verb
ob·so·let·ed, ob·so·let·ing, ob·so·letes
To cause to become obsolete: "The textbook publishers use every trick known to the marketing mind to obsolete their products year after year, thus closing off the possibility of second-hand sales" ( Thomas Frank )
Origin of obsolete
Latin
obsolētus
past participle of
obsolēscere
to fall into disuse
; see
obsolescent
.
Related Forms:
---
obsolete

Adjective
(comparative more obsolete, superlative most obsolete)
It is speculated that, within a few years, the Internet's speedy delivery of news worldwide will make newspapers obsolete.

(biology) Imperfectly developed; not very distinct.
Usage notes
Nouns to which "obsolete" is often applied: word, phrase, equipment, computer, technology, weapon, machine, law, statute, currency, building, idea, skill, concept, custom, theory, tradition, institution.
Verb
(third-person singular simple present obsoletes, present participle obsoleting, simple past and past participle obsoleted)
(US) To cause to become obsolete.

This software component has been obsoleted.
We are in the process of obsoleting this product.
Usage notes
Compare deprecated ("no longer considered correct usage")
---