Old-Fashioned
[ōld′fas̸h′ənd]
adjective
The definition of old fashioned is someone or something that is behind the times, not up to date and often no longer considered relevant.

An example of an old fashioned person is one who doesn't use any technology or cell phones.
An example of old fashioned is an old rotary phone.
YourDictionary definition and usage example. Copyright © 2013 by LoveToKnow Corp.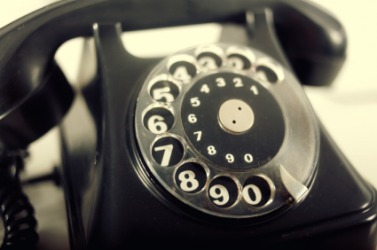 An old-fashioned rotary telephone.
Licensed from iStockPhoto
---
adjective
suited to or favoring the styles, methods, manners, or ideas of past times; esp., out-of-date; antiquated; outmoded
noun
an iced cocktail containing whiskey, bitters, sweetening, and a small amount of water, and garnished with pieces of fruit
Webster's New World College Dictionary
Copyright © 2010 by Wiley Publishing, Inc., Cleveland, Ohio.
Used by arrangement with John Wiley & Sons, Inc.
---
adjective
Of a style or method formerly in vogue; outdated.
Attached to or favoring methods, ideas, or customs of an earlier time: old-fashioned parents.
noun
A cocktail made of whiskey, bitters, sugar, and fruit.
The American Heritage® Dictionary of the English Language
, 4th edition Copyright © 2010 by Houghton Mifflin Harcourt Publishing Company. Published by Houghton Mifflin Harcourt Publishing Company. All rights reserved.
---
old-fashioned - Computer Definition
Computer Desktop Encyclopedia
THIS DEFINITION IS FOR PERSONAL USE ONLY
All other reproduction is strictly prohibited without permission from the publisher.
© 1981-2014 The Computer Language Company Inc. All rights reserved.
Old-Fashioned
Variant of old-fashioned
adjective
suited to or favoring the styles, methods, manners, or ideas of past times; esp., out-of-date; antiquated; outmoded
noun
an iced cocktail containing whiskey, bitters, sweetening, and a small amount of water, and garnished with pieces of fruit