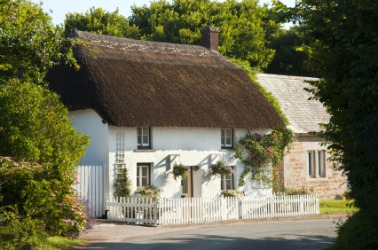 A quaint English cottage.
adjective
The definition of quaint is something small, old fashioned or charming in a good way.

An example of quaint is a little old cottage in the country.
---
quaint
Obs.

clever or skilled

Now Rare

wrought with skill; ingenious
unusual or old-fashioned in a pleasing way
singular; unusual; curious
fanciful; whimsical
Origin of quaint
Middle English
cointe
from Old French from Classical Latin
cognitus,
known: see cognition
---
quaint
adjective
quaint·er, quaint·est
Charmingly odd, especially in an old-fashioned way: "Sarah Orne Jewett … was dismissed by one critic as merely a New England old maid who wrote quaint, plotless sketches of late 19th-century coastal Maine" ( James McManus )
Archaic Unfamiliar or unusual in character; strange: quaint dialect words.
Archaic Cleverly made or done.
Origin of quaint
Middle English
queinte, cointe
clever, cunning, peculiar
from
Old French
clever
from
Latin
cognitus
past participle of
cognōscere
to learn
; see
cognition
.
Related Forms:
---
quaint

Adjective
(comparative quainter, superlative quaintest)
(now dialectal) Strange or odd; unusual. [from 14th c.]
Pleasingly unusual; especially, having old-fashioned charm. [from 18th c.]
Noun
(plural quaints)
(archaic) The vulva. [from 14th c.]
Origin
From Anglo-Norman cointe, queinte et al., Old French cointe ("pretty, clever, knowing"), from Latin cognitus, past participle of cognoscere ("to know").
---