adjective
The definition of picturesque is something scenic and beautiful.

The view of the sun setting over the water on a perfect summer day is an example of something that would be described as picturesque.
YourDictionary definition and usage example. Copyright © 2013 by LoveToKnow Corp.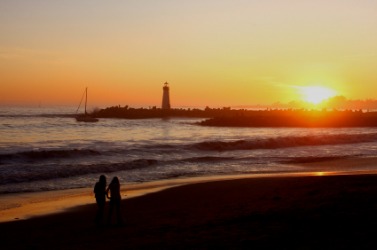 A picturesque sunset.
Licensed from iStockPhoto
---
adjective
like or suggesting a picture; specif.,

having a wild or natural beauty, as mountain scenery
pleasantly unfamiliar or strange; quaint

suggesting or calling up a mental picture; striking; vivid: a picturesque description
Origin: altered (by associated, association with picture) from French pittoresque from Italian pittoresco from pittore, painter from Classical Latin pictor, painter from past participle of pingere, to paint
Webster's New World College Dictionary
Copyright © 2010 by Wiley Publishing, Inc., Cleveland, Ohio.
Used by arrangement with John Wiley & Sons, Inc.
---
adjective
Of, suggesting, or suitable for a picture: picturesque rocky shores.
Striking or interesting in an unusual way; irregularly or quaintly attractive: a picturesque French café.
Strikingly expressive or vivid: picturesque language.
Origin: Alteration of French pittoresque, from Italian pittoresco, from pittore, painter, from Latin pictor; see Pictor.
Related Forms:
The American Heritage® Dictionary of the English Language
, 4th edition Copyright © 2010 by Houghton Mifflin Harcourt Publishing Company. Published by Houghton Mifflin Harcourt Publishing Company. All rights reserved.