adjective
The definition of picturesque is something scenic and beautiful.

The view of the sun setting over the water on a perfect summer day is an example of something that would be described as picturesque.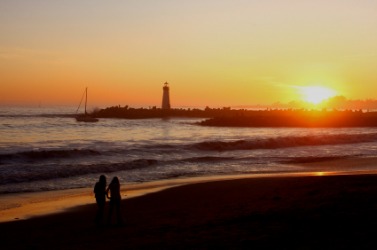 A picturesque sunset.
---
picturesque definition by Webster's New World
adjective
like or suggesting a picture; specif.,

having a wild or natural beauty, as mountain scenery
pleasantly unfamiliar or strange; quaint

suggesting or calling up a mental picture; striking; vivid: a picturesque description
Origin: altered (by associated, association with picture) ; from French pittoresque ; from Italian pittoresco ; from pittore, painter ; from Classical Latin pictor, painter ; from past participle of pingere, to paint
Webster's New World College Dictionary Copyright © 2010 by Wiley Publishing, Inc., Cleveland, Ohio. Used by arrangement with John Wiley & Sons, Inc.
---
picturesque definition by American Heritage Dictionary
adjective
Of, suggesting, or suitable for a picture: picturesque rocky shores.
Striking or interesting in an unusual way; irregularly or quaintly attractive: a picturesque French café.
Strikingly expressive or vivid: picturesque language.
Origin: Alteration of French pittoresque, from Italian pittoresco, from pittore, painter, from Latin pictor; see Pictor.
Related Forms: