adjective
The definition of vivid is something that is bright, intense or full of life.

An example of vivid is the imagination of a child.
YourDictionary definition and usage example. Copyright © 2013 by LoveToKnow Corp.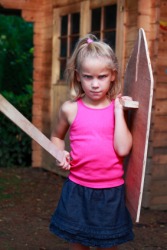 Vivid is a child's imagination.
Licensed from iStockPhoto
---
adjective
full of life; vigorous; lively; striking: a vivid personality

bright; intense; brilliant: said of colors, light, etc.
brightly colored: a vivid tapestry

forming clear or striking mental images; strong; active; daring: a vivid imagination
clearly perceived by the mind, as a recollection
bringing strikingly realistic or lifelike images to the mind: a vivid description
Origin: L vividus, lively from vivere, to live: see bio-
Webster's New World College Dictionary
Copyright © 2010 by Wiley Publishing, Inc., Cleveland, Ohio.
Used by arrangement with John Wiley & Sons, Inc.
---
adjective
viv·id·er
,
viv·id·est
Perceived as bright and distinct; brilliant: a vivid star.

a. Having intensely bright colors: a vivid tapestry.

b. Having a very high degree of saturation: a vivid purple.

Presented in clear and striking manner: a vivid account of the incident. See Synonyms at graphic.
Perceived or felt with the freshness of immediate experience: a vivid recollection of their childhood.
Active in forming lifelike images: a vivid imagination.
Origin: Latin vīvidus, from vīvere, to live; see gwei- in Indo-European roots.
Related Forms:
The American Heritage® Dictionary of the English Language
, 4th edition Copyright © 2010 by Houghton Mifflin Harcourt Publishing Company. Published by Houghton Mifflin Harcourt Publishing Company. All rights reserved.