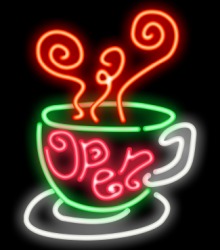 A sign created using neon.
noun
The definition of neon is a gas with ten electrons and ten protons.

Facts About Neon

The element neon is identified as Ne on the periodic table.
The atom has two energy levels that surround and spin around the outside of the nucleus.
The element neon was discovered for the first time in the year 1898 by the scientist Sir William Ramsay.
The name for the element neon was derived from the Greek word neos, meaning new.
Neon is considered to be colorless, odorless, and tasteless noble gas.
Neon is used for lighting, lightening arrestors, voltage detectors and television tubes.

An example of neon is the gas in the open sign in the front window of the restaurant.
---
neon
a chemical element, one of the noble gases, that is tasteless, odorless, and colorless, found in small quantities in the earth's atmosphere and used in discharge tubes, gas lasers, bright electrical signs, etc.: neon ionizes and glows with light when an electric current is sent through it: symbol, Ne; at. no. 10
Origin of neon
ModL: so named (1898) by Sir William Ramsay, its co-discoverer from Classical Greek
neon
, neuter of
neos
, new
containing neon for lighting purposes: a neon tube

lighted by neon: garish neon advertising signs
bright, intense, gaudy, etc.: neon colors
---
neon
noun
Ne A rare, inert gaseous element occurring in the atmosphere to the extent of 18 parts per million and obtained by fractional distillation of liquid air. It is colorless but glows reddish orange in an electric discharge and is used in lasers, as a cryogen, and in cathode-ray tubes and other display devices. Atomic number 10; atomic weight 20.180; melting point −248.59°C; boiling point −246.08°C. See Periodic Table.
Electric signage made with neon lights.
An extremely bright shade of a color.
A neon tetra.
adjective
Of, relating to, or containing neon.
Of or relating to a form of lighting used especially on advertising signs and consisting of glass tubes filled with neon or other gases that emit colored light when subjected to an electric current.
Extremely bright or vivid; fluorescent: neon purple.
Origin of neon
From
Greek
neuter of
neos
new
; see
newo-
in Indo-European roots.
neon
---
neon

Noun
(countable and uncountable, plural neons)
(countable) A form or sample of the element.
(uncountable) neon signs, collectively.
(countable) a neon tetra fish
Origin
From Ancient Greek νέον (neon), neuter of νέος (neos, "new").
---