noun
The definition of a cameo is jewelry with a plain colored background and a profile carved in portrait in a different color, or a short literary depiction that captures the essence of someone or something, or is a brief appearance in a play, film or television show by someone famous.

A necklace you wear that has a white face carved in profile set on a blue background is an example of a cameo.
A short written description that captures what it is like to live in the Caribbean is an example of a cameo.
When Brad Pitt or some other famous movie star appears for just two or three minutes in the middle of a movie, this is an example of a cameo.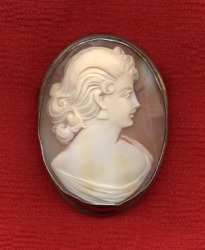 A cameo brooch.
---
cameo definition by Webster's New World
noun
pl.
cameos
a carving in relief on certain stratified gems (sardonyx, agate, etc.) or shells so that the raised design, often a head in profile, is usually in a layer of different color from its background
a gem, shell, etc. so carved

a minor but well-defined role in a play, film, etc., esp. when performed by a notable actor
a fine bit of descriptive writing
Origin: Italian cammeo ; from Midieval Latin camaeus, camahutus; ultimately ; from uncertain or unknown; perhaps Persian chumāhän, agate
Webster's New World College Dictionary Copyright © 2010 by Wiley Publishing, Inc., Cleveland, Ohio. Used by arrangement with John Wiley & Sons, Inc.
---
cameo definition by American Heritage Dictionary
noun
pl.
cam·e·os
a. A gem or shell carved in relief, especially one in which the raised design and the background consist of layers of contrasting colors.

b. The technique of carving in this way.

c. A medallion with a profile cut in raised relief.

A brief vivid portrayal or depiction: a literary cameo.
A brief appearance of a prominent actor, as in a single scene of a motion picture. Also called cameo role.
verb
cam·e·oed
,
cam·e·o·ing
,
cam·e·os
verb
, transitive
To make into or like a gem or shell carved in relief.
To portray in sharp, delicate relief, as in a literary composition.
verb
, intransitive
To make a brief appearance, as in a film:
She cameoed as Anne Boleyn in

A Man for All Seasons.
Origin: Italian cameo and Middle English cameu (from Old French camaieu and Medieval Latin camahūtus).
cameo