adjective
The definition of modern is having to do with the current time.

An example of modern used as an adjective is a modern oven that has current features and technology.

Modern is defined as a style of art, design, or fashion that is very different from past styles.

An example of modern used as an adjective is the modern home design of a concrete home.
YourDictionary definition and usage example. Copyright © 2013 by LoveToKnow Corp.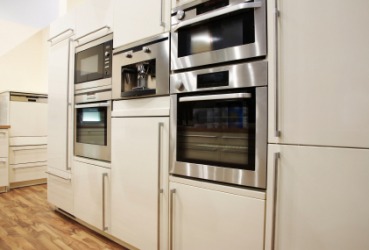 A modern kitchen.
Licensed from iStockPhoto
---
adjective
of the present or recent times; specif.,

of or having to do with the latest styles, methods, or ideas; up-to-date
designating or of certain contemporary trends and schools of art, music, literature, dance, etc.

of or relating to the period of history after the Middle Ages, from c. 1450 to the present day
designating the form of a language in its most recent stage of development
Origin: Fr moderne from Late Latin modernus from Classical Latin modo, just now, origin, originally ablative of modus: see mode
noun
a person living in modern times
a person having modern ideas, beliefs, standards, etc.

Printing

a style of typeface characterized by heavy down strokes contrasting with narrow cross strokes
Webster's New World College Dictionary
Copyright © 2010 by Wiley Publishing, Inc., Cleveland, Ohio.
Used by arrangement with John Wiley & Sons, Inc.
---
adjective
a. Of or relating to recent times or the present: modern history.

b. Characteristic or expressive of recent times or the present; contemporary or up-to-date: a modern lifestyle; a modern way of thinking.

a. Of or relating to a recently developed or advanced style, technique, or technology: modern art; modern medicine.

b. Avant-garde; experimental.

often Modern Linguistics Of, relating to, or being a living language or group of languages: Modern Italian; Modern Romance languages.
noun
One who lives in modern times.
One who has modern ideas, standards, or beliefs.
Printing Any of a variety of typefaces characterized by strongly contrasted heavy and thin parts.
Origin: French moderne, from Old French, from Late Latin modernus, from Latin modo, in a certain manner, just now, from modō, ablative of modus, manner; see med- in Indo-European roots.
Related Forms:
Word History:
The word
modern,
first recorded in 1585 in the sense "of present or recent times," has traveled through the centuries designating things that inevitably must become old-fashioned as the word itself goes on to the next modern thing. We have now invented the word
postmodern,
as if we could finally fix
modern
in time, but even
postmodern
(first recorded in 1949) will seem fusty in the end, perhaps sooner than
modern
will. Going back to Late Latin
modernus,
"modern," which is derived from Latin
modo
in the sense "just now," the English word
modern
(first recorded at the beginning of the 16th century) was not originally concerned with anything that could later be considered old-fashioned. It simply meant "being at this time, now existing," an obsolete sense today. In the later 16th century, however, we begin to see the word contrasted with the word
ancient
and also used of technology in a way that is clearly related to our own modern way of using the word.
Modern
was being applied specifically to what pertained to present times and also to what was new and not old-fashioned. Thus in the 19th and 20th centuries the word could be used to designate a movement in art, modernism, which is now being followed by postmodernism.
The American Heritage® Dictionary of the English Language
, 4th edition Copyright © 2010 by Houghton Mifflin Harcourt Publishing Company. Published by Houghton Mifflin Harcourt Publishing Company. All rights reserved.
---
modern - Computer Definition
Current. The latest. Typically refers to the most recent model of hardware or version of software.
Computer Desktop Encyclopedia
THIS DEFINITION IS FOR PERSONAL USE ONLY
All other reproduction is strictly prohibited without permission from the publisher.
© 1981-2014 The Computer Language Company Inc. All rights reserved.
Modern
Variant of modern
adjective
of the present or recent times; specif.,

of or having to do with the latest styles, methods, or ideas; up-to-date
designating or of certain contemporary trends and schools of art, music, literature, dance, etc.

of or relating to the period of history after the Middle Ages, from c. 1450 to the present day
designating the form of a language in its most recent stage of development
Origin: Fr moderne from Late Latin modernus from Classical Latin modo, just now, origin, originally ablative of modus: see mode
noun
a person living in modern times
a person having modern ideas, beliefs, standards, etc.

Printing

a style of typeface characterized by heavy down strokes contrasting with narrow cross strokes