noun
The definition of a season is one of the four division in a calendar year, the best time to do something or when something typically happens.

An example of season is winter.
An example of season is football games being played from the beginning of September to February.
verb
To season is defined as to add herbs and spices to make food more tasty.

An example of to season is adding fresh herbs to a dish.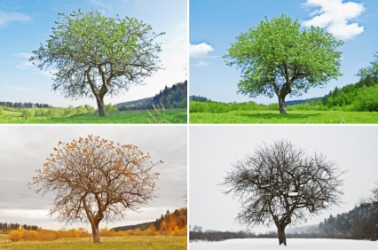 A tree seen in each of the four seasons.
---
season
noun
any of the four arbitrary divisions of the year, characterized chiefly by differences in temperature, precipitation, amount of daylight, and plant growth; spring, summer, fall (or autumn), or winter
a time or part of the year during which a specified kind of agricultural work is done or a specified kind of weather prevails: the harvest season, the rainy season
the time when something specified flourishes, develops, takes place, or is popular, permitted, or at its best: the opera season, the hunting season
a period of time: a slack season in business
the suitable, fitting, or convenient time
the period of time during which a specified festival or holiday occurs: the Christmas season

Origin of season

< the v.

Obsolete

something that seasons
Origin of season
Middle English
sesoun
; from Old French
seson
; from Vulgar Latin
satio
, season for sowing ; from Classical Latin a sowing, planting ; from base of
serere
, to sow: see
seed
transitive verb
to make (food) more tasty by adding salt, spices, etc.
to add zest or interest to: to season a lecture with humor

to make more suitable for use; improve the quality of, as by aging, drying, etc.; cure; mature: to season lumber
to give (an athlete, actor, etc.) experience to increase skill: many tours seasoned him as an actor

to make used to; accustom; inure; acclimate: seasoned to a hard life
to make less harsh or severe; temper; soften: discipline seasoned with kindness
Origin of season
ME
sesonen
, aphetic < MFr
assaisonner
, to season, orig., to ripen <
a-
(< L
ad-
), to +
saison
intransitive verb
to become seasoned, as wood by drying
in season
available fresh for use as food: said of fruits, vegetables, seafood, etc.
at the legally established time for being hunted or caught: said of game
in or at the suitable or proper time
in good season; early enough
in heat: said of animals
---
season
noun
a. One of the four natural divisions of the year, spring, summer, fall, and winter, in the North and South Temperate zones. Each season, beginning astronomically at an equinox or solstice, is characterized by specific meteorological or climatic conditions.

b. The two divisions of the year, rainy and dry, in some tropical regions.

A recurrent period characterized by certain occurrences, occupations, festivities, or crops: the holiday season; tomato season.
A suitable, natural, or convenient time: a season for merriment.
A period of time: gone for a season.
verb
sea·soned
,
sea·son·ing
,
sea·sons
verb
, transitive
To improve or enhance the flavor of (food) by adding salt, spices, herbs, or other flavorings.
To add zest, piquancy, or interest to: seasoned the lecture with jokes.
To treat or dry (lumber, for example) until ready for use; cure.
To render competent through trial and experience: a lawyer who had been seasoned by years in the trial courts.
To accustom or inure; harden: troops who had been seasoned in combat. See Synonyms at harden.
To moderate; temper.
verb
, intransitive
To become usable, competent, or tempered.
Origin of season
Middle English, from Old French
seison
, from Latin
satiō, satiōn-
,
act of sowing
, from
satus
, past participle of
serere
,
to plant
; see
sē-
in Indo-European roots.
---
season
Noun
(plural seasons)
1605, Shakespeare, The Tragedy of Macbeth, III, 4

You lack the season of all natures, sleep.

(North America) A group of episodes of a television or radio program broadcast in regular intervals with a long break between each group, usually with one year between the beginning of each.

The third season of Friends aired from 1996 to 1997.
Usage notes
In British English, a year-long group of episodes is called a series, whereas in North American English the word "series" is a synonym of "program" or "show".
Verb
(third-person singular simple present seasons, present participle seasoning, simple past and past participle seasoned)
To make fit for any use by time or habit; to habituate; to accustom; to inure; to ripen; to mature; as, to season one to a climate.
(intransitive) To become mature; to grow fit for use; to become adapted to a climate.
(intransitive) To become dry and hard, by the escape of the natural juices, or by being penetrated with other substance; as, timber seasons in the sun.
Origin
From Middle English sesoun, seson ("time of the year"), from Old French seson, seison ("time of sowing, seeding"), from Latin satiōnem, accusative of satiō ("act of sowing, planting") from satum, past participle of serere ("to sow, plant") from Proto-Indo-European *seh₁- ("to sow, plant"). Akin to Old English sāwan ("to sow"), Old English sǣd ("seed"). Displaced native Middle English sele ("season") (from Old English sǣl ("season, time, occasion")), Middle English tide ("season, time of year") (from Old English tīd ("time, period, yeartide, season")).
---