flavor

fla·vor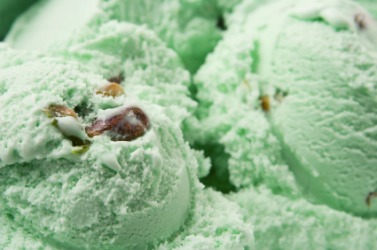 Pistachio is the flavor of this ice cream.
noun
The definition of flavor is the taste of something, or a substance added to give taste.

An example of a flavor is pistachio in ice cream.
verb
Flavor is defined as to add a specific taste to something.

An example of to flavor is to add chili powder to a stew.
---
flavor
Archaic

an odor; smell; aroma

that quality of a substance that is a mixing of its characteristic taste and smell
taste in general: a soup lacking flavor

any substance added to a food, medicine, etc. to give it a particular taste; flavoring
the characteristic quality of something; distinctive nature: the flavor of a small town

Particle Physics

any of the six basic types of quarks or leptons: down quark, up quark, charmed quark, strange quark, top quark, or bottom quark
Origin of flavor
Middle English
flavour
, an odor, altered (by analogy with
savour
, savor) from Old French
flaur
from Vulgar Latin an unverified form
flator
, odor from Classical Latin
flatare
, to blow, frequentative of
flare
, blow (see blast), probably influenced, influence by
foetor
, foul odor
---
flavor
noun
Distinctive taste; savor: a flavor of smoke in bacon.
A distinctive yet intangible quality felt to be characteristic of a given thing: "What matters in literature … is surely the idiosyncratic, the individual, the flavor or color of a particular human suffering" ( Harold Bloom )
A flavoring: contains no artificial flavors.
Physics

a. Any of six types of quark (down, up, strange, charm, bottom, top), distinguished by generation, electric charge, and mass.

b. Any of six types of lepton (electron, electron neutrino, muon, muon neutrino, tauon, tau neutrino), distinguished by generation, electric charge, and mass.

Archaic Aroma; fragrance.
transitive verb
fla·vored, fla·vor·ing, fla·vors
To give flavor to.
Origin of flavor
Middle English
flavour
aroma
from
Old French
flaor
(
perhaps influenced in form by
Middle English
savour
taste, savor
)
from
Vulgar Latin
flātor
from
Latin
flāre
to blow
; see
bhlē-
in Indo-European roots.
Related Forms:
fla′vor·ous fla′vor·some

adjective
---
flavor

---