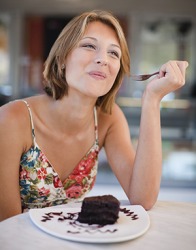 Naomi savored the chocolate cake that she ordered at the restaurant because she was starting a paleo diet on Monday.
verb
To savor is defined as to appreciate the smell, taste or feeling of something.

An example of savor is swishing a delicious red wine in the mouth.
An example of savor is enjoying the excitement of a college graduation.
---
savor
that quality of a thing which acts on the sense of taste or of smell
a particular taste or smell

characteristic quality; distinctive property
perceptible trace; tinge
power to excite interest, zest, etc.

Archaic

repute
Origin of savor
Middle English from Old French
savour
from Classical Latin
sapor
, akin to
sapere
: see sap
to have the particular taste, smell, or quality; smack (of)
to show traces or signs (of): rudeness savoring of contempt
to be the source of the flavor or scent of; season
to taste or smell, esp. with relish
to enjoy with appreciation; dwell on with delight
---
savor
noun
A specific taste or smell: the savor of fresh mint.
The quality of something that is perceived as taste or smell: "There is little savor in dead men's meat" ( Stephen Vincent Benét )
A distinctive quality or characteristic: enjoyed the savors of local life on their trip.
verb
sa·vored, sa·vor·ing, sa·vors
verb
intransitive
To have a particular taste or smell: a dish that savors of curry.
To exhibit a specified quality or characteristic; smack: postures that savored of vanity.
verb
transitive
To taste or smell, especially with pleasure: savored each morsel of the feast.
To appreciate fully; enjoy or relish: I want to savor this moment of accomplishment.
Origin of savor
Middle English
savour
from
Old French
from
Latin
sapor
from
sapere
to taste
; see
sep-
in Indo-European roots.
Related Forms:
---
savor

---