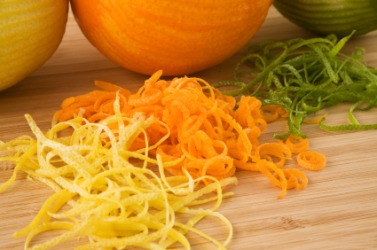 Lemon, orange and lime zest.
noun
Zest is enthusiasm, energy and excitement or the very outside of the peel of a citrus fruit.

An example of zest is when you are excited and enthusiastic about life.
An example of zest is the orange shavings from an orange peel.
---
zest
the outermost, colored portion of the peel of a citrus fruit used, often in fine shreds, as flavoring
stimulating or exciting quality
keen enjoyment; gusto: often with for: a zest for life
Origin of zest
French
zeste,
partition membrane in a nut, hence piece of orange or orange peel used to give piquancy
---
zest
noun
a. Flavor or piquancy: a spice that lends zest to the sauce.

b. Interest or excitement: "A spiral staircase always adds zest to a setting" ( P. J. O'Rourke )

c. The outermost part of the rind of an orange, lemon, or other citrus fruit, used as flavoring: added a pinch of grated zest.

Spirited enjoyment; gusto: "At 53 he retains all the heady zest of adolescence" ( Kenneth Tynan )
transitive verb
zest·ed, zest·ing, zests
To remove small pieces from (a rind from a citrus fruit) for use as a flavoring in cooking: zested the lemon.
Origin of zest
Obsolete French
zest
orange or lemon peel
(
now spelled
zeste
)
bitter woody membrane dividing the kernel inside a walnut shell, citrus zest
from
Middle French
alteration
(
perhaps influenced by
zeste
onomatopoetic word used to imitate the sound of a hit or blow
)
of earlier
zec
something of little value or importance, probably of imitative origin (expressing the idea of smallness)
Related Forms:
---
zest

Verb
(third-person singular simple present zests, present participle zesting, simple past and past participle zested)
(cooking) To scrape the zest from a fruit
To make more zesty
Origin
French zeste, Greek ζέστη (zesti = warmth).
---