noun
Salt is sodium chloride, a white crystal found in sea water which is used for preserving and seasoning food.

An example of salt is what is found in a shaker on the table of most restaurants along with pepper.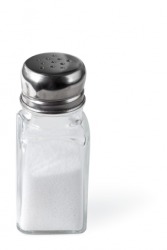 Salt in a salt shaker.
---
salt
noun
sodium chloride, NaCl, a white, crystalline substance with a characteristic taste, found in natural beds, in sea water, etc., and used for seasoning and preserving foods, etc.
a chemical compound derived from an acid by replacing hydrogen, wholly or partly, with a metal or an electropositive radical: the salt of an -ous acid is usually indicated by the suffix -ite, the salt of an -ic acid by the suffix -ate
that which lends a tang or piquancy; esp., sharp pungent humor or wit
saltcellar
any of various mineral salts used as a cathartic, as Epsom salts, or to soften bath water, as a restorative, etc.

Informal

a sailor, esp. an experienced one
Origin of salt
Middle English ; from Old English
sealt
, akin to German
salz
; from Indo-European base an unverified form
sal-
, salt from source Classical Latin
sal
, Classical Greek
hāls
, salt, Sanskrit
salila
, salty
adjective
containing salt
preserved with salt
tasting or smelling of salt

Now Rare

pungent or biting

flooded with salt water
growing in salt water
transitive verb
to sprinkle or season with salt
to preserve with salt or in a salt solution
to provide with salt
to treat with salt in chemical processes
to season or give a tang to: to salt a speech with wit
to give artificial value to; specif.,

to alter (books, prices, etc.) in order to give false value
☆ to scatter minerals or ores in (a mine), put oil in (a well), etc. in order to deceive prospective buyers
above (or below) the salt
in a more honored (or less honored) position
: From the former practice of placing guests at the upper or lower part of a table with a bowl of salt in the middle
salt away
or
salt down
to pack and preserve with salt
☆

Informal

to store or save (money, etc.)
salt of the earth
Origin of salt
see Matt. 5:13 any person or persons regarded as the finest, noblest, etc.
salt out
to precipitate or separate (a substance) from its solution by the addition of a soluble salt
with a grain of salt
or
with a pinch of salt
Origin of salt
Latinized as
cum grano salis
with some doubt, allowance for exaggeration, etc.; skeptically
worth one's salt
worth one's wages, sustenance, etc.
☆
noun
Strategic Arms Limitation Talks
---
salt
noun
A colorless or white crystalline solid, chiefly sodium chloride, used extensively in ground or granulated form as a food seasoning and preservative. Also called common salt, table salt.
An ionic chemical compound formed by replacing all or part of the hydrogen ions of an acid with metal ions or other cations.
salts Any of various mineral salts used as laxatives or cathartics.
salts Smelling salts.
often salts Epsom salts.
An element that gives flavor or zest.
Sharp lively wit.
Informal A sailor, especially when old or experienced.
A saltcellar.
adjective
Containing or filled with salt: a salt spray; salt tears.
Having a salty taste or smell: breathed the salt air.
Preserved in salt or a salt solution: salt mackerel.

a. Flooded with seawater.

b. Found in or near such a flooded area: salt grasses.
transitive verb
salt·ed
,
salt·ing
,
salts
To add, treat, season, or sprinkle with salt.
To cure or preserve by treating with salt or a salt solution.
To provide salt for (deer or cattle).
To add zest or liveliness to: salt a lecture with anecdotes.
To give an appearance of value to by fraudulent means, especially to place valuable minerals in (a mine) for the purpose of deceiving.
Phrasal Verbs:
salt away
To put aside; save.
salt out
To separate (a dissolved substance) by adding salt to the solution.
Origin of salt
Middle English, from Old English
sealt
; see
sal-
in Indo-European roots.
abbreviation
Strategic Arms Limitation Talks
---
salt
Noun
(plural salts)
A common substance, chemically consisting mainly of sodium chloride (NaCl), used extensively as a condiment and preservative.
(chemistry) One of the compounds formed from the reaction of an acid with a base, where a positive ion replaces a hydrogen of the acid.
(uncommon) A salt marsh, a saline marsh at the shore of a sea.
(slang) A sailor (also old salt).
(cryptography) Randomly chosen bytes added to a plaintext message prior to encrypting it, in order to render brute-force decryption more difficult.
A person who seeks employment at a company in order to (once employed by it) help unionize it.
(figuratively) That which preserves from corruption or error, or purifies; a corrective; an antiseptic; also, an allowance or deduction.

His statements must be taken with a grain of salt.
Adjective
(comparative more salt, superlative most salt)
Salty; salted.

salt beef;  salt tears

Saline.

a salt marsh;  salt grass
Verb
(third-person singular simple present salts, present participle salting, simple past and past participle salted)
To add salt to.

to salt fish, beef, or pork

(intransitive) To deposit salt as a saline solution.

The brine begins to salt.

(mining) To blast gold into (as a portion of a mine) in order to cause to appear to be a productive seam.
(cryptography) To add filler bytes before encrypting, in order to make brute-force decryption more resource-intensive.
To include colorful language in.
To insert or inject something into an object to give it properties it would not naturally have.
(archaeology) To add bogus evidence to an archeological site.
To fill with salt between the timbers and planks, as a ship, for the preservation of the timber.
Origin
From Old English sealt, from Proto-Germanic *saltą (compare Dutch zout, German Salz, Swedish salt), from Proto-Indo-European *seh₂l- (compare French sel, Welsh halen, Old Irish salann, Latin sal, Russian соль (sol'), Ancient Greek ἅλς (háls), Albanian ngjelmë ("salty, savory"), Old Armenian աղ (ał), Tocharian A sāle, Sanskrit सलिल (salila)).
---
salt - Computer Definition
(1) (Speech Application Language Tags) Extensions to HTML, XHTML and XML for voice recognition and synthesized speech and audio output. SALT is designed to support mixed modes including audio, video, text and graphics, depending on the device in the user's hands. For more information, visit the SALT Forum at www.saltforum.org.
(2) (salt) In cryptography, a random number that is added to the encryption key or to a password to protect them from disclosure. See cryptography.
---