temper

tem·per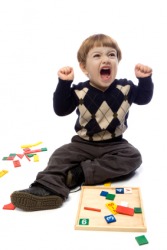 This little boy seems to have a temper.
noun
Temper is a state of mind, particularly one that is hostile or angry.

An example of temper is what someone loses when they gets excessively mad at even the simplest of problems.
verb
Temper is defined as to moderate or soften something or make it less intense.

An example of temper is to add white paint to a dark purple paint to make it a lighter color.
---
temper
to make suitable, desirable, or free from excess by mingling with something else; reduce in intensity, esp. by the admixture of some other quality; moderate; assuage; mollify: to temper criticism with reason

to bring to the proper texture, consistency, hardness, etc. by mixing with something or treating in some way: to temper paints with oil, to temper steel by heating and sudden cooling, to temper clay by moistening and kneading
to toughen, as by rigors or trying experiences

Rare

to fit; adapt

Archaic

to mix in proper proportions

Music

to adjust the pitch of (a note) or tune (an instrument) according to some temperament
Origin of temper
Middle English
tempren
from Old English
temprian
and Old French
temprer,
both from Classical Latin
temperare,
to observe proper measure, mix, regulate, forbear from
tempus
(gen.
temporis
), time, period, origin, originally , a span from Indo-European an unverified form
tempos,
a span from an unverified form
temp-,
to pull from base an unverified form
ten-
, to stretch from source thin
the state of being tempered; specif.,

Archaic

a properly proportioned mixture
the state of a metal with regard to the degree of hardness and resilience

frame of mind; disposition; mood: in a bad temper
calmness of mind; composure: now only in the phrases

lose one's temper

and

keep one's temper

a tendency to become angry readily: to have a temper
anger; rage: to go into a temper
something used to temper a mixture, etc.
the trend in thought and feeling (of an era, period, etc.); character: the temper of the times, the modern temper

Archaic

a middle course; mean

Obs.

character; quality
---
temper
verb
tem·pered, tem·per·ing, tem·pers
verb
transitive
To modify by the addition of a moderating element; moderate: "temper its doctrinaire logic with a little practical wisdom" ( Robert H. Jackson ) See Synonyms at moderate.
To bring to a desired consistency, texture, hardness, or other physical condition by blending, admixing, or kneading: temper clay; paints that had been tempered with oil.
To harden or strengthen (metal or glass) by application of heat or by heating and cooling.
To strengthen through experience or hardship; toughen: soldiers who had been tempered by combat.
Music To adjust (the pitch of an instrument) to a temperament.
verb
intransitive
To be or become tempered.
noun
A state of mind or emotion; disposition: an even temper.
Calmness of mind or emotions; composure: lose one's temper.

a. A tendency to become easily angry or irritable: a quick temper.

b. Anger; rage: a fit of temper.

A characteristic general quality; tone: heroes who exemplified the medieval temper; the politicized temper of the 1930s.

a. The condition of being tempered.

b. The degree of hardness and elasticity of a metal, chiefly steel, achieved by tempering.

A modifying substance or agent added to something else.
Archaic A middle course between extremes; a mean.
Origin of temper
Middle English
temperen
from
Old English
temprian
from
Latin
temperāre
probably from variant of
tempus
tempor-
time, season
Related Forms:
---
temper

Noun
(plural tempers)
A tendency to be of a certain type of mood.

to have a good, bad, calm, or hasty temper
He has quite a (bad) temper when dealing with salespeople.

State of mind.
The state of any compound substance which results from the mixture of various ingredients; due mixture of different qualities.

the temper of mortar

The heat treatment to which a metal or other material has been subjected; a material that has undergone a particular heat treatment.
Calmness of mind; moderation; equanimity; composure.

to keep one's temper

The state of a metal or other substance, especially as to its hardness, produced by some process of heating or cooling.

the temper of iron or steel

Middle state or course; mean; medium.
(sugar manufacture, historical) Milk of lime, or other substance, employed in the process formerly used to clarify sugar.
Verb
(third-person singular simple present tempers, present participle tempering, simple past and past participle tempered)
To strengthen or toughen a material, especially metal, by heat treatment.

Tempering is a heat treatment technique applied to metals, alloys, and glass to achieve greater toughness by increasing the strength of materials and/or ductility. Tempering is performed by a controlled reheating of the work piece to a temperature below its lower eutectic critical temperature.

To sauté spices in ghee or oil to release essential oils for flavouring a dish in South Asian cuisine.
To mix clay, plaster or mortar with water to obtain the proper consistency.
(music) To adjust, as the mathematical scale to the actual scale, or to that in actual use.
(archaic) To combine in due proportions; to constitute; to compose.
---