bake

bake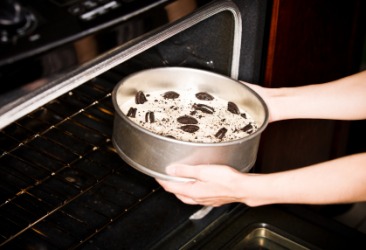 A cake being put in the oven to bake.
noun
The definition of bake is the act of cooking food or hardening something through the use of heat.

An example of a bake is a cake that has been cooked in an oven and frosted.
An example of a bake is wet cement poured onto a driveway and then hardened by the sun.
verb
Bake is defined as to get intensely hot.

An example of bake is what happens when a car is locked up and left to sit under the sun's rays on a summer day until the leather interior is hot to the touch.

Bake means to cook food through the use of some type of dry heat, usually an oven, or to use heat on non-food items to make them hard or dry.

An example of bake is to put a cake mixture in the oven until it is heated all the way through and the finished cake is ready to eat.
An example of bake is to place wet clay pots in the sun to dry.
---
bake
transitive verb
baked

,

bak′ing
to cook (food) by dry heat, esp. in an oven
to make dry and hard by heat; fire (bricks, earthenware, etc.)
to expose (oneself) to the rays of the sun, a lamp, etc.

Obs.

to harden or cake
Origin of bake
Middle English
baken
from Old English
bacan
from Indo-European an unverified form
bhog-
from base an unverified form
bhe-
, to warm, bake from source bath, Classical Greek
ph?gein,
to roast
to bake bread, pastry, etc.
to become baked
to become dry and hard in the sun: said of soil
the act of baking
a product of baking
a social affair at which a certain kind of food, often baked, is served

Scot.

a cracker
---
bake
verb
baked, bak·ing, bakes
verb
transitive
To cook (food) with dry heat, especially in an oven.
To harden or dry (something) by subjecting to heat in or as if in an oven: bake bricks.
verb
intransitive
To cook food with dry heat.
To become hardened or dry by or as if by having been subjected to the heat of an oven.
noun
a. The act or process of baking.

b. An amount baked.

A social gathering at which food is cooked by baking and then served.
Origin of bake
Middle English
baken
from
Old English
bacan
---
bake

---