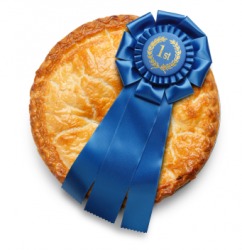 The winning pie in a bake-off.
noun
The definition of a bake off is a contest in which people submit things they have cooked and prepared, such as cookies, pies or breads, in order to be judged and to determine the best recipe or food product.

An example of a bake off is a contest at the fair when many different people enter homemade pies to see which gets the most votes.
---
bake-off
a cooking contest in which participants prepare their own recipes, as for a specified kind of cake
Origin of bake-off
probably from
Bake-Off
, trademark for an annual baking contest first conducted by the Pillsbury Company in 1949, although similar formations such as
playoff
and
runoff
date from the 19th circa
---
Bake-Off
A service mark used for a contest in which cooks prepare their own recipes, usually of baked goods, and prizes are awarded for originality and taste. This service mark sometimes occurs in lowercase with the meaning "any contest among cooks."
---
bake-off

Noun
(plural bakeoffs)
Alternative spelling of bake-off.
Noun
(plural bake-offs)
A cooking contest, especially one where competition is head-to-head, not limited to preparing food involving baking.

The winner of the Pillsbury bake-off is obviously a very good cook and is respected for it.
---