brown

brown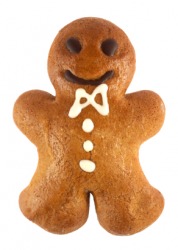 A golden brown gingerbread man.
adjective
The definition of brown is something that is the color of mud, soil or dirt (a color made from mixing red, yellow and black), or someone who is sun-tanned or dark-skinned.

The dirt in your vegetable garden at home is an example of something that would be described as being brown.
A person who has just spent three weeks lying on a beach in Florida getting a suntan is an example of someone who would be described as brown.
noun
Brown is defined as a color made from mixing red, black and yellow, or something of that color.

The color of dirt is an example of brown.
If you are wearing a dress that is the color of dirt, this is an example of a time when you are wearing brown.
verb
To brown is defined as to cook or bake something until it becomes brown.

When you put chicken in a frying pan and you fry it until it turns brown instead of pink, this is an example of a time when you brown the chicken.
---
brown
having the color of chocolate or coffee, a combination of red, black, and yellow
having a naturally dark or tanned skin; dark-skinned
Origin of brown
Middle English
broun
from Old English
brun
from Indo-European base an unverified form
bhrou-no-
from an unverified form
bher-,
brown: see bear
brown color
brown pigment or dye
to make or become brown, esp. by exposure to sunlight, as in tanning, or to heat, as in cooking
be browned off
Slang
to be angry, disgusted, etc.
do up brown
Slang
to do completely or perfectly
Brown
(born Lancelot Brown) 1715?-83; Eng. landscape artist

1912-2004; U.S. organic chemist, born in Great Britain

1800-59; U.S. abolitionist: as part of a plan for an uprising among slaves, he led a raid on an arsenal at Harpers Ferry: hanged for treason
---
brown
noun
Any of a group of colors between red and yellow in hue that are medium to low in lightness and low to moderate in saturation.
adjective
brown·er, brown·est
Of the color brown.

a. Having a brownish or dark skin color.

b. Often Offensive Of or being a person of nonwhite origin.

Deeply suntanned.
tr. & intr.v.
browned, brown·ing, browns
To make or become brown.
To cook until brown.
Phrasal Verbs:
brown off
Chiefly British Slang
To make angry or irritated.
Origin of brown
Middle English
from
Old English
brūn
; see
bher-
2
in Indo-European roots.
Related Forms:
---
brown

---