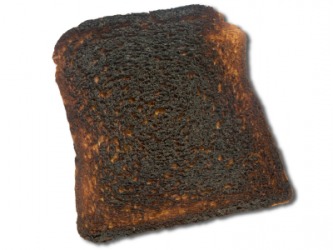 A piece of scorched toast.
noun
Scorch is the burnt or brown part of something that has been burned or damaged.

An example of scorch is the browning you see on a lawn after a long, dry summer.
verb
To scorch is to burn or heat until blackened or withered, or to attack fiercely.

An example of scorch is to overcook toast till it turns black.
An example of scorch is for grass to turn to straw in the sun.
An example of scorch is to reveal damaging information at a news conference about a competitor.
---
scorch
to char, discolor, or damage the surface of by superficial burning
to parch, shrivel, or spoil by too intense heat; wither

to make a caustic attack on; assail scathingly; excoriate
to burn and destroy everything in (an area) before yielding it to the enemy
Origin of scorch
Middle English
scorchen
from uncertain or unknown; perhaps Scand, as in Old Norse
scorpna
, to shrivel ( from Indo-European an unverified form
(s)kerb(h)-
: see sharp): spelling, spelled probably influenced, influence by Old French
escorcher
, to flay
to become scorched

Slang

to ride or drive at high speed
a superficial burning or burn
the browning and death of plant leaves or fruits, caused by too much heat, by fungi, etc.
---
scorch
verb
scorched, scorch·ing, scorch·es
verb
transitive
To burn superficially so as to discolor or damage the texture of. See Synonyms at burn1.
To dry out or wither with intense heat: The sun scorched the plains.
To destroy (land and buildings) by fire or military action so as to leave nothing salvageable to an enemy army.
To subject to severe censure; excoriate.
verb
intransitive
To become scorched or singed.
To go or move at a very fast, often excessively fast rate.
noun
A slight or surface burn.
Brown spotting on plant leaves caused by pathogens, heat, or lack of water.
Origin of scorch
Middle English
scorchen
possibly of Scandinavian origin
Old Norse
skorpna
to shrink, be shriveled
Related Forms:
---
scorch

Verb
(third-person singular simple present scorches, present participle scorching, simple past and past participle scorched)
To wither, parch or destroy something by heat or fire, especially to make land or buildings unusable to an enemy
(intransitive) To become scorched or singed
To burn; to destroy by, or as by, fire.
Origin
Perhaps from Old Norse skorpna ("to shrivel up") .
---