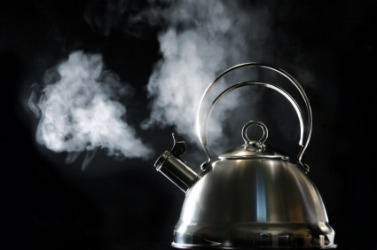 Contact with this steam would scald you.
noun
The definition of a scald is an injury caused by burning with hot steam or liquid.

An example of a scald is a wound from the steam of a tea kettle.
verb
Scald is defined as to burn with hot steam or liquid, to heat liquid almost to the point of boiling, or to harshly criticize.

An example of scald is to pour boiling water on your hand.
---
scald
to burn or injure with hot liquid or steam
to heat almost to the boiling point
to use boiling liquid on; specif.,

to sterilize by the use of boiling liquid
to loosen the skin of (fruit, etc.), the feathers of (poultry), or the like, by the use of boiling water
Origin of scald
Middle English
scalden
from Norman French
escalder
, for Old French
eschalder
from Late Latin
excaldare
, to wash in warm water from Classical Latin
ex-
, intensive +
calidus
, hot, akin to
calere
, to be warm: see calorie
a burn or injury caused by scalding
the act or an instance of scalding
sunscald
---
scald
transitive verb
scald·ed, scald·ing, scalds
a. To burn (a person, for example) with hot liquid or steam.

b. To subject to or treat with boiling water: scalded the hide to remove the hair; scalded and peeled the tomatoes.

c. To heat (a liquid, such as milk) almost to the boiling point.

To affect with a sensation similar to that caused by hot liquid on the skin: Tears scalded his eyes.

a. To cause great emotional pain to: The remarks scalded her heart.

b. To criticize harshly; excoriate: an article scalding the administration for incompetence.
noun
A body injury caused by scalding.
A discoloration of leaves or stored fruit caused by any of various factors, such as exposure to intense light, oxidation, or infection with certain bacteria and fungi.
Origin of scald
Middle English
scalden
from
Old North French
escalder
from
Late Latin
excaldāre
to wash in hot water
Latin
ex-
ex-
Latin
calidus, caldus
warm, hot
; see
kelə-
1
in Indo-European roots.
---
scald

Verb
(third-person singular simple present scalds, present participle scalding, simple past and past participle scalded)
Noun
(plural scalds)
A burn, or injury to the skin or flesh, by hot liquid or steam.
Origin
From Anglo-Norman, Old Northern French escalder (Old French eschalder, French échauder), from Late Latin excaldare ("bathe in hot water"), from Latin ex- ("off, out") + calidus ("hot") from whence English calorie.
Noun
(uncountable)
1603, John Florio, translating Michel de Montaigne, Essays, II.12:

Some heale Horses, some cure men, some the plague, some the scald [transl. teigne], some the cough, some one kinde of scab, and some another [...].
Adjective
(comparative more scald, superlative most scald)
(obsolete) Affected with the scab; scabby.

(obsolete) Paltry; worthless.

scald rhymers
Origin
Alteration of scall.
Noun
(plural scalds)
Alternative form of skald.

A war song such as was of yore chanted on the field of battle by the scalds of the yet heathen Saxons. "" Sir Walter Scott.
Part or all of this entry has been imported from the 1913 edition of Webster's Dictionary, which is now free of copyright and hence in the public domain. The imported definitions may be significantly out of date, and any more recent senses may be completely missing.
---