scourge

scourge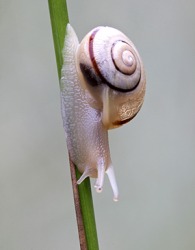 Grove snails are an invasive species and a scourge in certain areas of the United States because they are not native to North America.
noun
The definition of a scourge is someone or something that causes a lot of trouble, problems or suffering.

An example of a scourge is famine or the outbreak of a disease.
---
scourge
a whip or other instrument for flogging
any means of inflicting severe punishment, suffering, or vengeance
any cause of serious trouble or affliction: the scourge of war
Origin of scourge
Middle English from Old French
escorgie
from Classical Latin
ex
, off, from +
corrigia
, a strap, whip
transitive verb
scourged

,

scourg′ing
to whip or flog
to punish, chastise, or afflict severely
---
scourge
noun
A source of widespread dreadful affliction and devastation such as that caused by pestilence or war.
A means of inflicting severe suffering, vengeance, or punishment.
A small whip used to inflict punishment.
transitive verb
scourged, scourg·ing, scourg·es
To afflict with severe or widespread suffering and devastation; ravage.
To chastise severely; excoriate.
To flog.
Origin of scourge
Middle English
from
Anglo-Norman
escorge
from
Old French
escorgier
to whip
from
Vulgar Latin
excorrigiāre
Latin
ex-
intensive pref.
; see
ex-
. Latin
corrigia
thong
(
probably of Celtic origin
)
Related Forms:
---
scourge

Verb
(third-person singular simple present scourges, present participle scourging, simple past and past participle scourged)
To strike with a scourge, to flog.
Origin
From Old French escorgier ("to whip"), from Vulgar Latin excorrigere, consisting of ex- + Latin corrigo
---