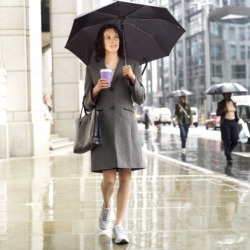 The persistent rain made walking to work a challenge because she had to carry her briefcase and coffee as well as an umbrella.
adjective
The definition of persistent is someone or something that is stubborn or keeps on going.

An example of persistent is rain that hasn't let up for weeks on end.
---
persistent
refusing to relent; continuing, esp. in the face of opposition, interference, etc.; stubborn; persevering
continuing to exist or endure; lasting without change
constantly repeated; continued

Bot.

remaining attached permanently or for a longer than normal time, as some leaves, perianths, etc.

Zool.

remaining essentially unchanged over a long period of geologic time, as a species
remaining for life: said of such parts retained in the adult that normally disappear or wither at an early stage
Origin of persistent
Classical Latin
persistens,
present participle of
persistere:
see persist
---
persistent
adjective
Refusing to give up or let go; persevering obstinately.
Insistently repetitive or continuous: a persistent honking of car horns.
Existing or remaining in the same state for an indefinitely long time; enduring: persistent rumors; a persistent infection.
Botany Lasting past maturity without falling off, as the calyx on an eggplant or the scales of a pine cone.
Zoology Retained permanently, rather than disappearing in an early stage of development: the persistent gills of fishes.
Related Forms:
---
persistent

Adjective
(comparative more persistent, superlative most persistent)
---
persistent - Computer Definition
---