adjective
Desolate is defined as someone or something which is unhappy or bleak.

A barren and depressing landscape is an example of a desolate landscape.
A person who is miserable and sad is an example of someone who isdesolate.
verb
The definition of desolate is to abandon or make deserted.

When you destroy a landscape by polluting and killing all of the greenery, this is an example of when you desolate the landscape.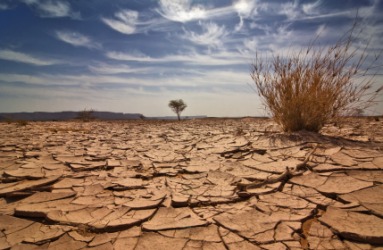 A desolate landscape.
---
desolate definition by Webster's New World
adjective
left alone; lonely; solitary
uninhabited; deserted
made uninhabitable; laid waste; in a ruinous state
forlorn; wretched
Origin: Middle English desolat ; from Classical Latin desolatus, past participle of desolare, to leave alone, forsake, strip of inhabitants ; from de-, intensive plush solare, to make lonely ; from solus, sole
transitive verb
desolated, desolating
to make desolate; rid of inhabitants
to make uninhabitable; lay waste; devastate
to forsake; abandon
to make forlorn, wretched, etc.
Origin: ME desolaten < the adj.
Webster's New World College Dictionary Copyright © 2010 by Wiley Publishing, Inc., Cleveland, Ohio. Used by arrangement with John Wiley & Sons, Inc.
---
desolate definition by American Heritage Dictionary
adjective
a. Devoid of inhabitants; deserted: "streets which were usually so thronged now grown desolate" (Daniel Defoe).

b. Barren; lifeless: the rocky, desolate surface of the moon.

Rendered unfit for habitation or use: the desolate cities of war-torn Europe.
Dreary; dismal.
Bereft of friends or hope; sad and forlorn. See Synonyms at sad.
transitive verb
des·o·lat·ed
,
des·o·lat·ing
,
des·o·lates
To rid or deprive of inhabitants.
To lay waste; devastate: "Here we have no wars to desolate our fields" (Michel Guillaume Jean de Crèvecoeur).
To forsake; abandon.
To make lonely, forlorn, or wretched.
Origin: Middle English desolat, from Latin dēsōlātus, past participle of dēsōlāre, to abandon : dē-, de- + sōlus, alone; see s(w)e- in Indo-European roots.
Related Forms:
desˈo·latˌer, desˈo·laˌtor

noun