desolate

des·o·late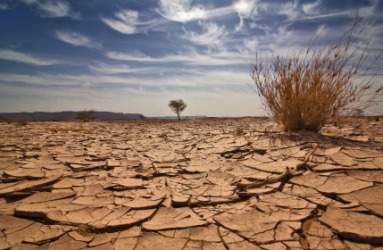 A desolate landscape.
adjective
Desolate is defined as someone or something which is unhappy or bleak.

A barren and depressing landscape is an example of a desolate landscape.
A person who is miserable and sad is an example of someone who isdesolate.
verb
The definition of desolate is to abandon or make deserted.

When you destroy a landscape by polluting and killing all of the greenery, this is an example of when you desolate the landscape.
---
desolate
left alone; lonely; solitary
uninhabited; deserted
made uninhabitable; laid waste; in a ruinous state
forlorn; wretched
Origin of desolate
Middle English
desolat
from Classical Latin
desolatus
, past participle of
desolare
, to leave alone, forsake, strip of inhabitants from
de-
, intensive +
solare
, to make lonely from
solus
, sole
transitive verb
-·lat·ed

,

-·lat·ing
to make desolate; rid of inhabitants
to make uninhabitable; lay waste; devastate
to forsake; abandon
to make forlorn, wretched, etc.
Origin of desolate
ME
desolaten
< the adj.
---
desolate
adjective
a. Devoid of inhabitants; deserted: "streets which were usually so thronged now grown desolate" ( Daniel Defoe )

b. Barren; lifeless: the rocky, desolate surface of the moon.

Feeling, showing, causing, or expressing sadness or loneliness. See Synonyms at sad.
transitive verb
des·o·lat·ed, des·o·lat·ing, des·o·lates
To rid or deprive of inhabitants.
To lay waste; devastate: "Here we have no wars to desolate our fields" ( Michel Guillaume Jean de Crèvecoeur )
To forsake; abandon.
To make lonely, forlorn, or wretched.
Origin of desolate
Middle English
desolat
from
Latin
dēsōlātus
past participle of
dēsōlāre
to abandon
dē-
de-
sōlus
alone
; see
s(w)e-
in Indo-European roots.
Related Forms:
des′o·lat′er des′o·la′tor

noun
---
desolate

Adjective
(comparative more desolate, superlative most desolate)
Verb
(third-person singular simple present desolates, present participle desolating, simple past and past participle desolated)
To deprive of inhabitants.
To devastate or lay waste somewhere.
To make someone sad, forlorn and hopeless.
---